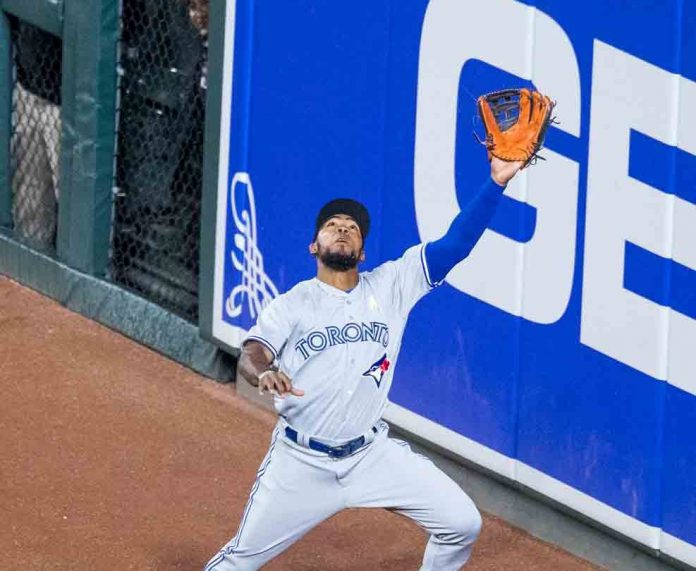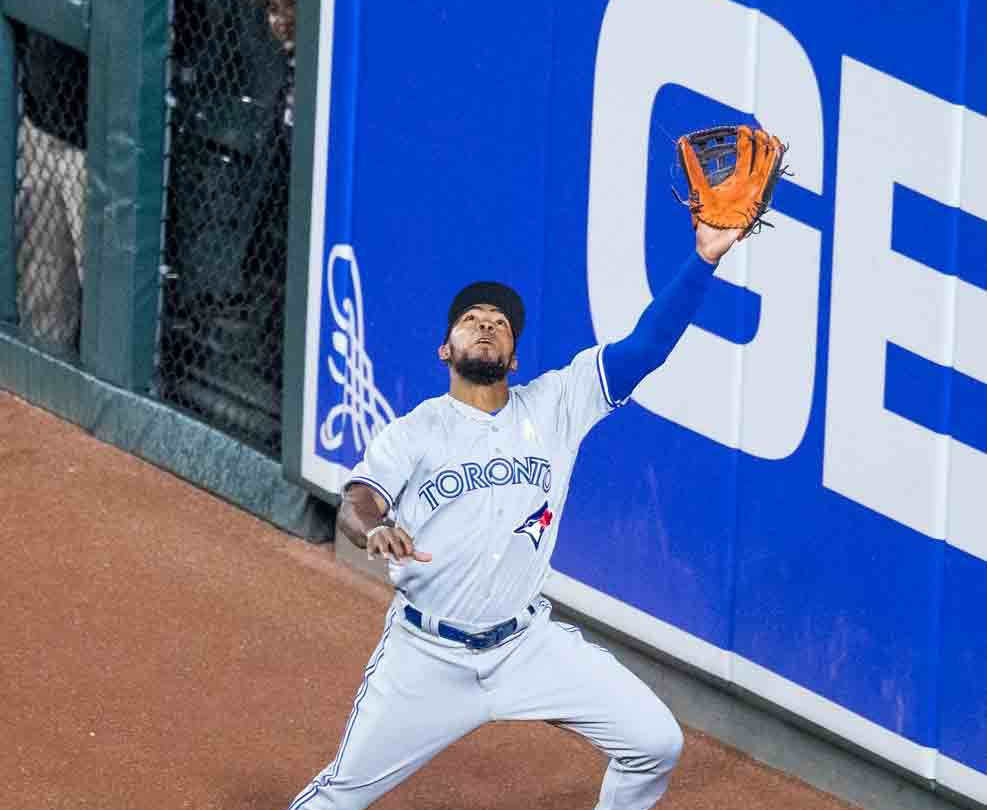 Like many kids in the late 80s and early 90s, I collected sports cards. Some were baseball, but most were hockey. I would walk to the local 7-Eleven with allowance money in hand, eyeing the displays of O-Pee-Chee and Upper Deck. Saving some change for penny candies and a slurpee, and blowing the rest on cards, 10-year old me was convinced this was a tremendous use of limited funds. That moment when I gently tore the wrapper open to reveal the surprise was everything.
It's easy to romanticize about times like this, preferring to bask in nostalgia rather than acknowledge the frustrating reality: I rarely ended up with the players I wanted. Instead of a Pavel Bure rookie card, it was Moe Mantha. Instead of Mark Messier staring back at me, Basil McRae was. No offence to either player, but they did not meet my needs. I had a collection to complete and they were of no value.
Such is the present day situation in the Blue Jays outfield. They have a collection of guys who, in the technical sense, are Major League Baseball players. The quandary is that none stand out as being a cornerstone piece of a competitive club. The 2019 season was all about playing the kids and acquiring cast-offs from other teams. They opted for quantity over quality and crossed their fingers they would hit on someone worthwhile.
The early returns have been… mixed.
Mercifully, the Alen Hanson and Socrates Brito experiments ended relatively quickly. Brandon Drury displayed impressive versatility (he played every position except centre field and catcher) but was one of the worst hitters in all of baseball.
Derek Fisher came over in a mid-season trade with the Astros, and despite his high exit velocity and elite speed, hasn't made made much of a contribution. Billy McKinney has been replacement level for two years now, and his once-strong prospect pedigree feels like a distant memory.
I'm sure the front office would've preferred more certainty heading into the offseason but such is life on a rebuilding team.
Let's take a closer look at each outfield position and think through what options the Jays will have for 2020.
Centre Field
If you squint hard enough, maybe Teoscar Hernandez plays centre field next year. He worked on transitioning to the position during his abbreviated stay at Triple-A in the season's first half. Between his improved route efficiency and manager Charlie Montoyo positioning his outfielders deeper than they had been under John Gibbons, Teoscar went from a liability to passable. Well, mostly passable.
Anthony Alford is the wild card for 2020. Does he break camp healthy and if so, do his tools translate to production? He doesn't have minor league options remaining so it's unlikely the Jays can take another wait-and-see approach in Buffalo. I don't imagine the front office would be happy losing him on waivers but he also doesn't have much trade value. They'd be selling low on a player who will still be 24 years old for much of next season.
Jonathan Davis does have options remaining, so he'll likely be ticketed for Buffalo. He'll turn 28 in May though, so if the organization feels that his development has stagnated, they may prefer to cut ties and use the roster spot on someone younger.
There's no clear front runner here, and the free agent market for centre fielders leaves a lot to be desired (unless you're enamoured with a speedster like Billy Hamilton or Jarrod Dyson, which you probably shouldn't be). Unless a trade is forthcoming, the Jays could split time between Alford and Hernandez, with the latter hitting in the DH spot when he's not in the field.
Right Field
This one doesn't require much analysis. Randal Grichuk's remaining four years and $44 million ensures that he'll be an every day player, most of the time being in right field.
Left Field
My goodness, this position has been a dumpster fire for years, hasn't it? Melky Cabrera, Chris Colabello, Ezequiel Carrera, and Michael Saunders are just some of the names to pass through the 7 position in recent memory. Things might be looking up though with the emergence of Lourdes Gurriel Jr.
Gurriel played just 84 games in left last year due to injury. Despite the missed time, his 1.8 fWAR stands as the second highest single-season mark among Blue Jays left fielders in the past 10 years. Yes, that's incredibly sad. And yes, the Jays will need more from the position in the future. Maybe Gurriel is the answer.
Bench Spots
Derek Fisher has no minor league options remaining, so his job security may rest on early 2020 returns. Don't let the career .191 batting average and 0.0 WAR over 152 games fool you. His .270 BABIP is absurdly low for a hitter with his power and speed. The Jays saw something in him and I'd be shocked if they gave up on him after only two months.
Fisher possesses an attractive set of tools that haven't yet manifested in production. His average fly ball distance of 350 feet this year was tops on the team. His average exit velocity of 91.6 mph was half a click ahead of Hernandez for team lead. He barrelled 12.4% of all batted balls, almost twice the league average rate. Yep, he hits the ball hard. And it doesn't hurt that Statcast measured his sprint speed as being in the 92nd percentile of MLB.
If he puts it together at the plate (making more contact and raising his launch angle would be a start) he could threaten for an every day job.
As the roster is constructed today, I'd have Grichuk and Gurriel as every day outfielders with Alford and Fisher splitting time. Hernandez can DH, which is where I think most people envision him landing eventually.
Other Options
With the logjam of bodies in the outfield, would the Jays really considering adding one from outside the organization? You may have heard last month that centre fielder Shogo Akiyama of the Seibu Lions in Japan has filed for free agency. He doesn't have to go through the posting system and there is no transfer fee for the 31-year old, so he should have a large array of choices. The Jays should be one of them.
Akiyama isn't expected to be a star (it's possible he's more of a 4th outfielder type in MLB) but his glove work gets strong reviews and he's hit over .300 in each of the past three seasons.
Register Batting
Year
Age
AgeDif
Tm
Lg
Lev
Aff
G
PA
AB
R
H
2B
3B
HR
RBI
SB
CS
BB
SO
BA
OBP
SLG
OPS
TB
GDP
HBP
SH
SF
IBB
2011
23
2 Teams
2 Lgs
Fgn
110
313
284
35
66
9
6
1
21
8
5
15
63
90
1
6
8
0
0
2011
23
-6.2
Seibu
JPPL
Fgn
110
313
284
35
66
9
6
1
21
8
5
15
63
.232
.285
.317
.602
90
1
6
8
0
0
2011
23
Seibu
JPEL
Fgn
2012
24
2 Teams
2 Lgs
Fgn
107
450
403
50
118
17
8
4
37
10
5
28
70
163
7
3
15
1
0
2012
24
-5.0
Seibu
JPPL
Fgn
107
450
403
50
118
17
8
4
37
10
5
28
70
.293
.343
.404
.747
163
7
3
15
1
0
2012
24
Seibu
JPEL
Fgn
2013
25
-3.4
Seibu
JPPL
Fgn
144
634
564
89
152
25
7
13
58
13
6
49
89
.270
.334
.408
.742
230
8
7
12
2
1
2014
26
2 Teams
2 Lgs
Fgn
131
561
475
64
123
24
6
4
47
3
3
70
98
171
4
3
11
2
2
2014
26
-2.3
Seibu
JPPL
Fgn
131
561
475
64
123
24
6
4
47
3
3
70
98
.259
.356
.360
.716
171
4
3
11
2
2
2014
26
Seibu
JPEL
Fgn
2015
27
-1.4
Seibu
JPPL
Fgn
143
675
602
108
216
36
10
14
55
17
17
60
78
.359
.419
.522
.941
314
6
4
7
2
2
2016
28
-0.2
Seibu
JPPL
Fgn
143
671
578
98
171
32
4
11
62
18
6
77
103
.296
.385
.422
.807
244
2
10
0
6
2
2017
29
0.9
Seibu
JPPL
Fgn
143
659
575
106
185
38
5
25
89
16
5
72
97
.322
.398
.536
.933
308
4
5
0
7
1
2018
30
2.1
Seibu
JPPL
Fgn
143
685
603
107
195
39
8
24
82
15
10
77
96
.323
.403
.534
.937
322
3
4
0
1
4
2019
31
3.1
Seibu
JPPL
Fgn
143
678
590
112
179
31
4
20
62
12
8
78
108
.303
.392
.471
.864
278
8
9
0
1
2
Year
Age
AgeDif
Tm
Lg
Lev
Aff
G
PA
AB
R
H
2B
3B
HR
RBI
SB
CS
BB
SO
BA
OBP
SLG
OPS
TB
GDP
HBP
SH
SF
IBB
Foreign (9 seasons)
Foreign
1207
5326
4674
769
1405
251
58
116
513
112
65
526
802
2120
43
51
53
22
14
NPB (9 seasons)
NPB
1207
5326
4674
769
1405
251
58
116
513
112
65
526
802
.301
.376
.454
.829
2120
43
51
53
22
14
All Levels (9 Seasons)
1207
5326
4674
769
1405
251
58
116
513
112
65
526
802
2120
43
51
53
22
14
If you subscribe to the opinion that Nippon Professional Baseball is a Quad-A league in terms of competition level in North America, then Akiyama's numbers should play well enough here. And perhaps his most appealing skill to the Jays is his ability to make contact and draw walks.
I'm not classifying the Jays as the front-runners for Akiyama. Frankly, I have no idea what their interest level is. You could see a team like the Indians – who may have one last kick at the can in 2020 before their window of contention starts to close – pony up to fill a glaring need.
Seibu Lions OF Shogo Akiyama received the Golden Spirit Award for his contributions to society. Since 2015 Shogo has been giving single parent families from the greater Kanto area tickets to games, takes pictures and signs autographs for them. https://t.co/h2PbjEvWw7 #npb

— NPB on reddit (@NPB_Reddit) November 5, 2019
But as more teams value positional versatility than ever before, perhaps the sports card analogy rings hollow. The Dodgers have a dozen players on the team who can play the outfield (ok, that's an exaggeration.. sort of) and they make it work.
So maybe the Jays don't see Gurriel as the everyday left fielder. It's possible that with his experience as a middle infielder that he becomes a super-utility player. He's only played four innings at third base in organized ball (the 2015-16 season in Cuba) but he's got the arm for the position. And if he's passable there, the Jays wouldn't have much of a use for Drury anymore, as the backup to Vlad at third.
In the super-utility scenario, a trade starts to become more of a possibility. It's not far-fetched to think that the only starting outfielder next year who is currently in the organization is Grichuk.
The Jays have a history of trading with the Astros and the Dodgers, although snagging either Kyle Tucker or Alex Verdugo from their crowded outfields is likely a pipe dream. The Brewers are another team with a history of dealing with the Jays – is Trent Grisham available? And what about Ian Happ in Chicago, the topic of numerous trade rumours over the years? Would the Cubs value Ken Giles enough to part with him?
All these questions will be answered over the winter. The only thing we're certain of right now is that improvement defensively and at the plate is necessary for the club to take a step forward. It's possible the in-house outfield candidates are capable of that, but I'd be shocked if Ross Atkins stands pat.