In Tyler Glasnow's start last Friday, May 21st, the Blue Jays roughed him up for five runs on nine hits in just 4.2 innings. The most notable stat, however, was that he only struck out two hitters. To find a start in which Glasnow struck out that few, we have to go back to September 2018. It's an anomaly, and people are going to talk about anomalies. One of those people is Glasnow.
In an interview for the Tampa Bay Times, the pitcher seemed to suggest that the Jays knew what pitches were coming.
"I don't know; I definitely think about it," said Glasnow, who starts Wednesday. "I'm not quite sure. I think you'd have to ask the Blue Jays what was going on. It was definitely a weird start for me. It was definitely strange. I think I had some decent swing-and-miss stuff. I think that the takes were different."

"They were just kind of on time with everything no matter what I threw," Glasnow said.
Glasnow wasn't the only one with thoughts on the matter. In the second inning of Friday's game, Tampa Bay Rays broadcast analyst Brian Anderson praised the Jays' approach against their ace.
"I tell ya, not a lot of swing and miss here so far. They're fouling off the slider. They're fouling off the curveball. They're getting to a lot of the fastballs and at least putting some good swings on them. Their approach has been rock solid."
Anderson was right. Of the 18 pitches Glasnow threw in the first inning, Jays hitters had just two swings and misses. They scored two runs. It was a good half inning.
By the second inning, Anderson's tone changed from praise to suspicion.
"There have been some pretty early decisions by these hitters on the breaking stuff too."
Early decisions because Jays hitters knew what pitches were coming? Yeah, ok, the Jays did put some good swings on breaking balls.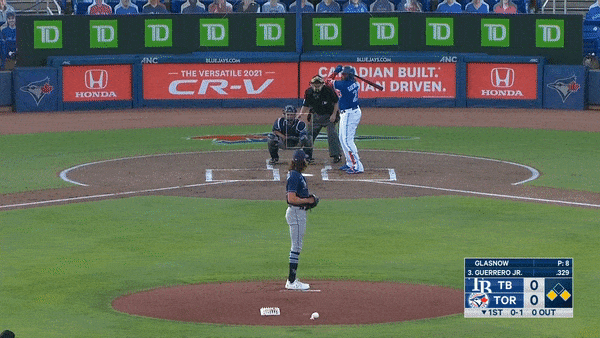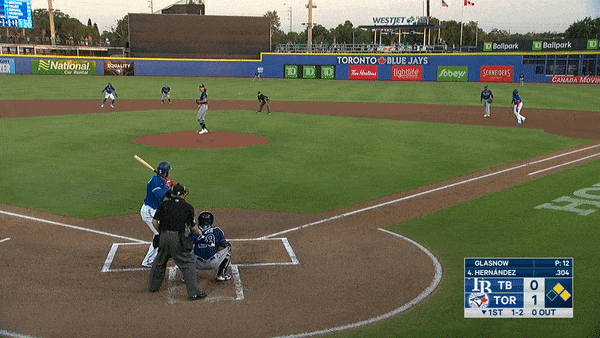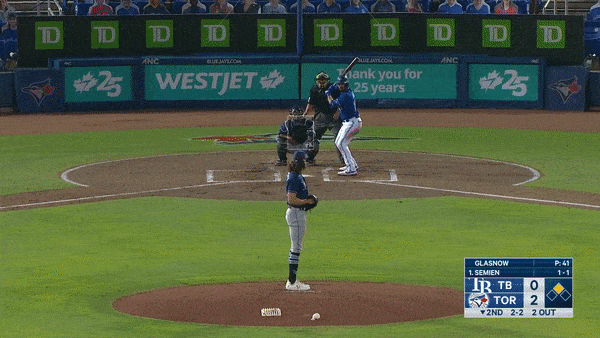 Those are healthy swings, and Teoscar Hernandez did a great job protecting the plate in a 2-strike count. The lack of whiffs to this point is out of character for Glasnow, who generates more of them than almost anyone else in baseball. In some ways the skepticism is merited.
But the sliders to Marcus Semien and Vladimir Guerrero Jr. were not well located. And let's see how Santiago Espinal looked in his at bat to lead off the bottom of the second.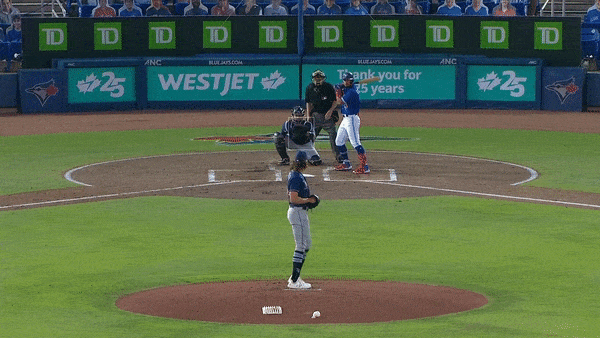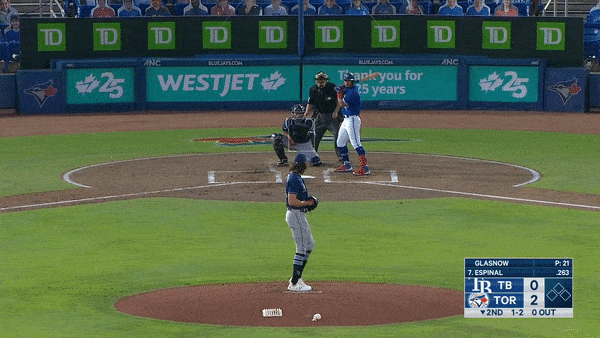 Espinal takes a first pitch slider for a strike right in his wheelhouse, and a borderline 1-2 curveball for a ball. His knees sort of do a half buckle. That doesn't look like the body language of a hitter who's comfortable swinging at breaking balls, does it?
Espinal would fly out, and Reese McGuire would do the same in the next at bat. Jonathan Davis then stepped in and is fooled by a first pitch fastball. His hips open up and his bat is late. Sure, that's 99 mph gas, but Davis was clearly expecting something different.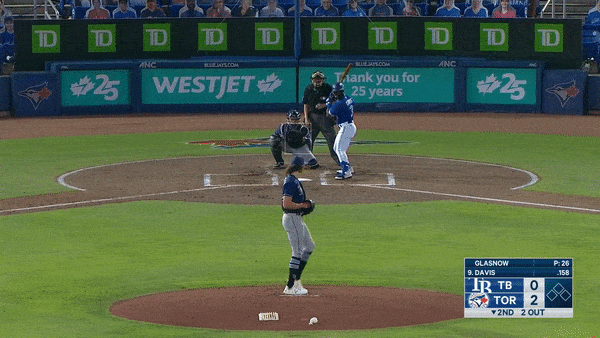 To his credit, he did catch up with a 97 mph fastball later in the at bat for a single to the opposite field. But Glasnow missed his spot on that pitch, which was a theme for him in this game.
The lineup turned over and Semien came to the plate. This is where things get interesting.
The at bat would end in a Dunedin wind-aided triple, but not before Semien took a really good 1-2 curveball. Francisco Mejia calls for the pitch and sets up low.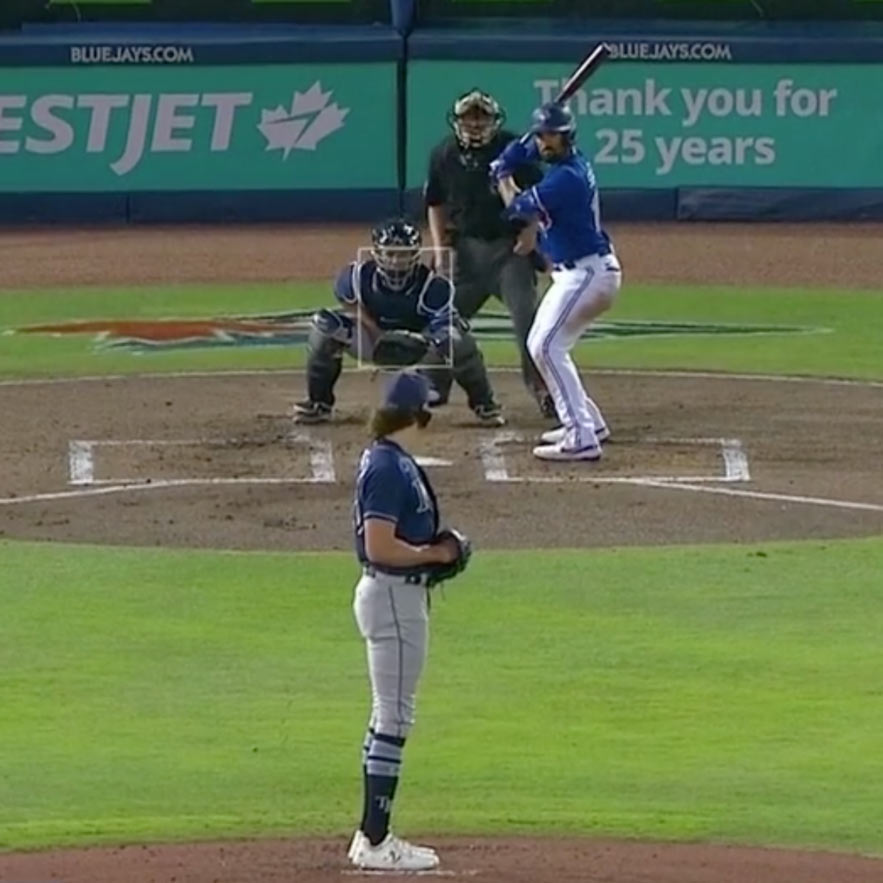 Glasnow delivers a near perfect breaking ball that Semien somehow, incredibly, doesn't offer at.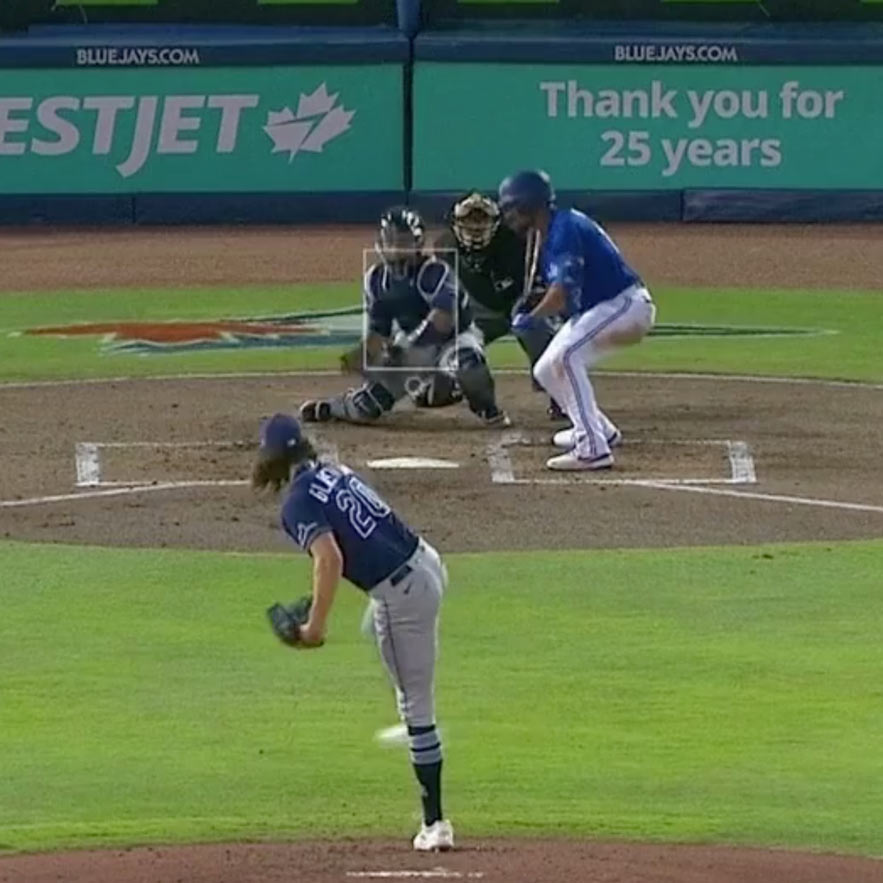 That's what, an inch below the zone? Maybe two? Brian Anderson couldn't believe Semien didn't swing either, impressed by how the Jays are just "spitting on pitches" like that.
Credit to Marcus for having a good eye, of course. He's a really good hitter. But by the time the next inning rolled around, the Rays broadcasters were baffled.
"It makes you scratch your head, for sure. The stuff they're getting too, that they're taking…" Anderson trailed off, referring to the lack of swinging strikes and the good takes by Blue Jays hitters.
The Rays appeared to suspect something too, and it might've been the way Mejia was setting up.
In this at bat to Rowdy Tellez in the 3rd, the catcher briefly positions his glove at the top of the zone after calling for a breaking ball.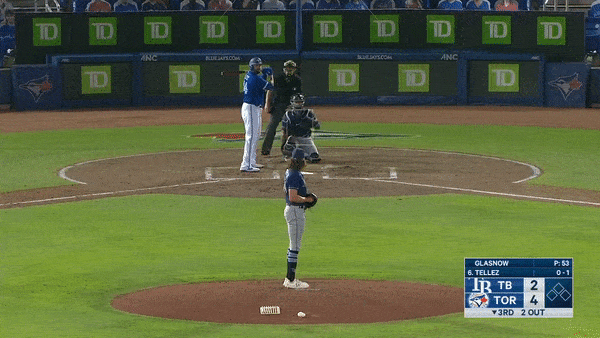 That's an awfully high target for a curveball. And why the deception with no one on base?
It could be that the Rays think Tellez is peeking in at the catcher. The more nefarious theory is that someone from the Jays dugout is relaying information right before the pitch. Did old Charlie have his bongos out banging once for fastball and twice for offspeed?
I went back and watched every pitch Glasnow threw in this game with headphones on and the volume high. I didn't hear any unexpected noises prior to pitches, nor did I expect to. Maybe some instructions were well disguised. A "dig in there" or "atta boy" could signal pitches, and wouldn't be audible to the home viewer. Or maybe the "man in white" has relocated from Toronto to Dunedin a decade later! I wonder what happened to that guy?
Anyway, let's continue.
Espinal would lead off the fourth inning with an 8-pitch at bat ending in a single to left.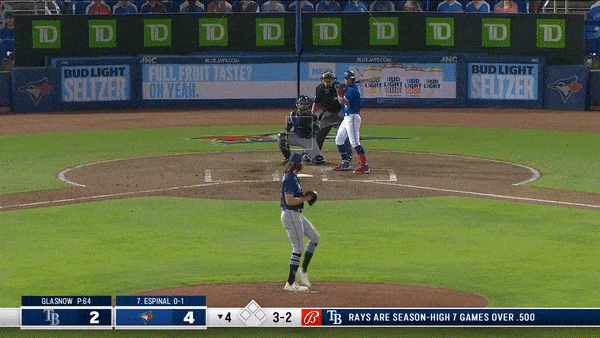 As soon as the ball left the infield Buck Martinez bellowed, "Oh, what an at bat by Espinal!". The Rays broadcast was less enthusiastic.
"Yeah something does not smell right here."
It was a great at bat by Espinal, but that fastball caught a lot of plate and big league hitters generally do damage on those.
In the next at bat, a graphic appeared on the screen after McGuire took a strike for an 0-1 count.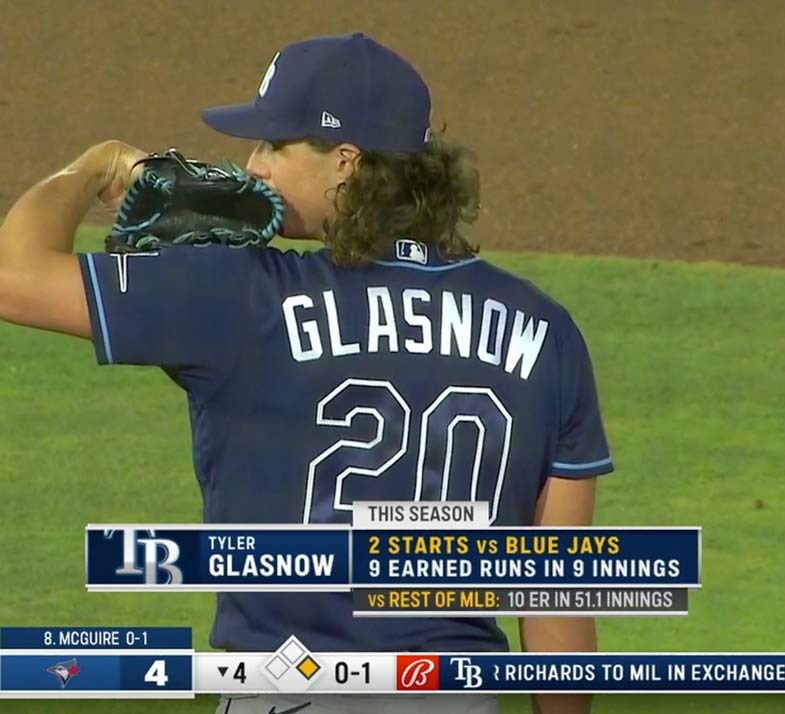 In 2 starts vs the Blue Jays this season, Glasnow has allowed 9 ER in 9 IP. Against the rest of MLB? 10 ER in 51.1 IP. Yowza.
"You have one team… maybe they have something on you," Anderson wondered.
Glasnow said he wasn't tipping. That doesn't mean he wasn't, but maybe the catcher was giving away location. It's not all that uncommon. The exact game escapes me at the moment, but I distinctly recall a time this year when Danny Jansen was giving away location and the opposition hit the snot out of the ball.
But let's look at that McGuire at bat, because it might be the best giveaway that the Jays have something. Mejia set the 0-0 target up and in: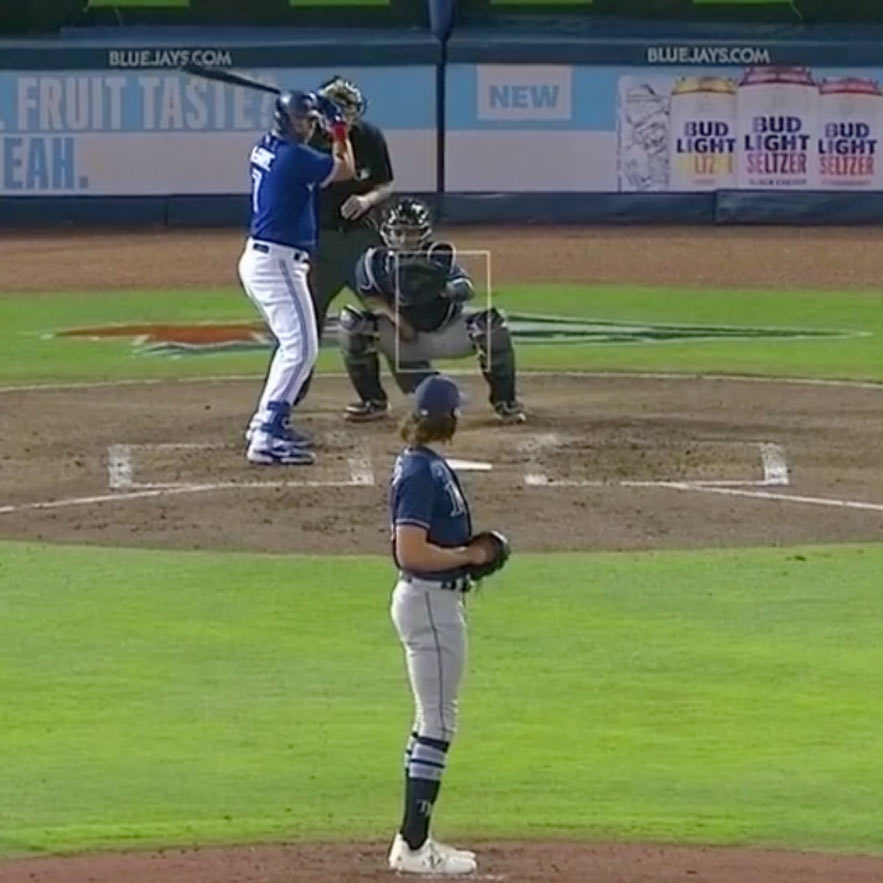 But the pitch is delivered here: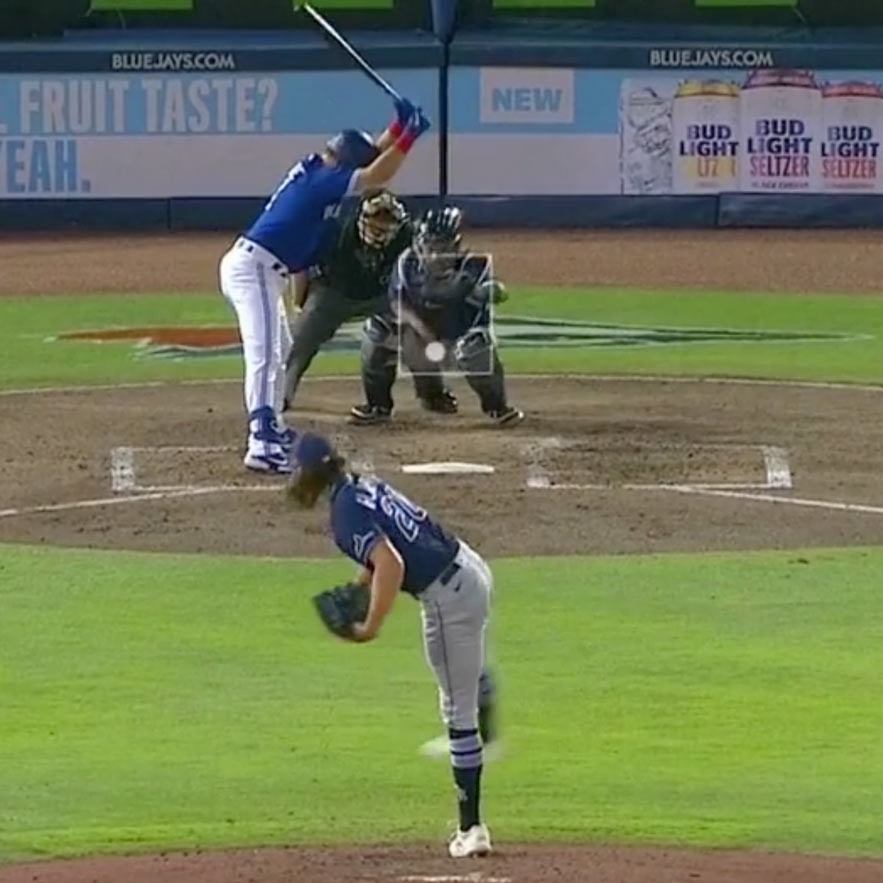 Look at McGuire raising his hands as if he's trying to avoid getting hit by the pitch. How many times have you seen a hitter do that on a fastball just above the knees over the middle of the plate? Reese reacted like he was expecting a pitch up and in, which is exactly where Mejia initially created a target.
This was the first of a solid, 8-pitch at bat. It even included Montoyo confidently putting the hit-and-run on in a 2-strike count. McGuire fouled off a fastball, slider, and curveball during the at bat. Once again, Anderson was not willing to give credit to the hitters.
"Something is amiss here… Reese McGuire being able to spoil the A+ curveball of Tyler Glasnow."
Anderson would again reference this at bat when Bichette came to bat in the 5th.
"[McGuire] was able to recognize it and just, just foul it off.. it's just a.. strange, strange thing. And there's.. there's no question that…" he trailed off.
There was a lot of trailing off from the announcers. They had thoughts, but they didn't know how exactly to form them. Or maybe they didn't need to. The suggestion was clear even if they didn't want to explicitly accuse the Blue Jays of stealing signs. They had no proof, but they did have thoughts.
In Guerrero's 5th inning at bat, Mejia calls for a pitch up.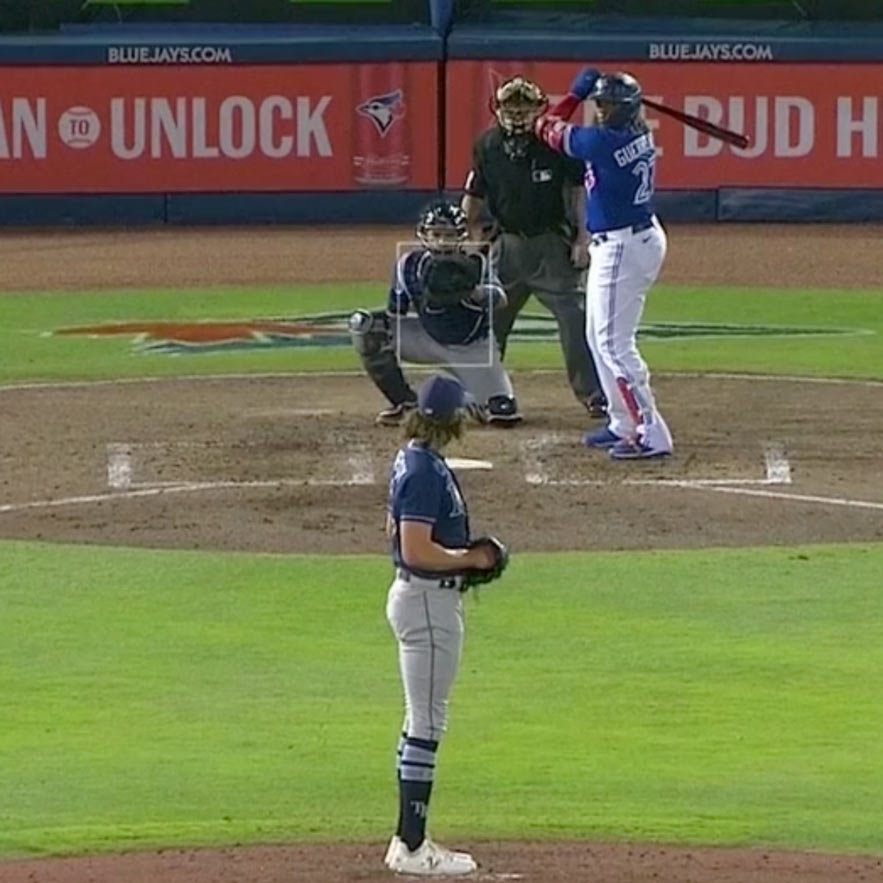 And it's a wipeout slider that Vladdy barely checks his swing on.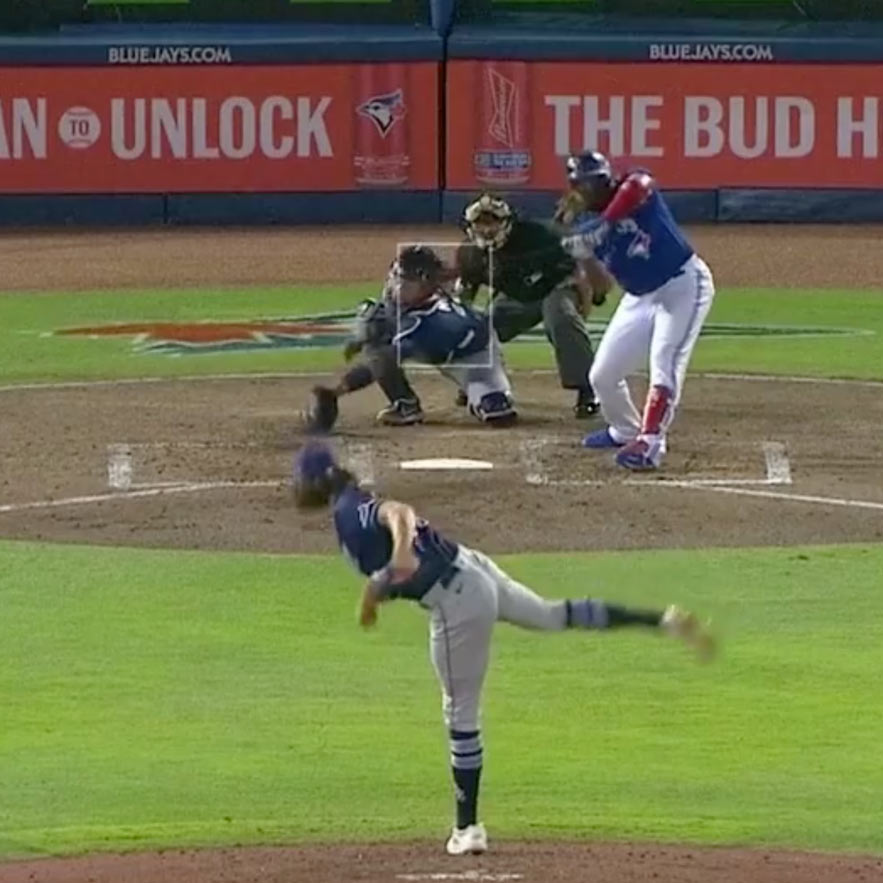 The Rays might have gotten wise to what the Jays were doing (or what they thought they were doing). One has to wonder if Mejia had created a high target on that 1-2 curveball to Semien, would Marcus have swung and missed instead of taking an incredibly close pitch for a ball?
It's also possible that Glasnow was just missing his spots. And, maybe he likes high targets when throwing breaking balls. Aim high, let the natural spin take it down out of the zone. (the problem with that is Mejia was often setting up low for breaking balls during the first two innings)
Verdict?
I think there's enough evidence from this start to at least ask the question if some Jays hitters knew pitch type or location ahead of time. But perhaps more importantly, who cares?! This happens all the time. Fans may not be aware, but it does.
Whether or not Glasnow was tipping his pitches (which, sorry that's on you, buddy) or the Jays had figured out location (also on the Rays!) is not clear. Even if it's the latter, cry me a river. If the catcher is setting up early and the other team picks up on it, that's fair game.
But if all you're basing this on is that your guy got hit around, well, that's pretty lame. The Blue Jays hitters are talented. Very talented. Are they talented and sneaky? Entirely possible! And it wouldn't be the first time the Jays dugout was caught trying to gain an unfair advantage. Although I don't think Gurriel ended up maiming any A's with his banana gun.
— dylan (@dylanfremlin) May 6, 2021
Tyler Glasnow image credit: MLB.com screengrab