Last weekend, the optics of the already-unpopular trade of Aaron Sanchez and Joe Biagini for Derek Fisher went from bad to worse. In the span of three hours on Saturday night, Fisher would take a routine fly ball off his face and the two ex-Jays pitchers would help combine for a no-hitter against the Seattle Mariners. You could sense that the entire fan base threw its collective hands up in exasperation. "Are you kidding me?"
I mean, good for Sanchez and Biagini that they were able to be part of history. Even the most disgruntled Jays fan must have felt a sliver of happiness for them… right? (Edit: a search of Twitter has, in fact, proven me wrong). So were there any words from GM Ross Atkins that could alleviate some of the frustration?
We can look back at his interview with Arash Madani immediately after the trade deadline. There was a lot he was excited about.
He was high on Patrick Murphy's future in the big league rotation; he suggested the Jays would spend like a big market once competitive; he disagreed with public prospect lists' lukewarm outlook on the Marcus Stroman return; and also proclaimed that the Jays added 42 years of control of players 25-and-under.
My 1-on-1 with Ross Atkins after the trade deadline — https://t.co/irZDbFvzZt

— Arash Madani (@ArashMadani) July 31, 2019
But that "42 years of control" wasn't going to give the Mariners a hit on Saturday night. It wasn't going to guide the ball into Fisher's glove instead of against his face. And it wasn't going to quell the fan base's growing dissatisfaction of the front office's job to date.
We won't know whether the Jays won or lost this trade for quite some time – Fisher can remain a Blue Jay until 2025. He has a promising combination of power, plate discipline, and speed, even if his production at the top level hasn't shown it. But if Sanchez turns his career around in Houston, it's hard to imagine that the swap looks great for the Jays.
That's a big "if" though, Saturday's result notwithstanding. He's spent the better part of two and a half years struggling to stay healthy and prevent runs at even a league average rate. If past results are a good indicator of future results, there's an enormous sample size not working in his favour.
But This is What the Astros Do
The Astros have a history of implementing tweaks and finding more production from pitchers they acquire from other teams. Many pundits and fans have pointed out that Sanchez threw more breaking balls and fewer sinkers in his first game as an Astro than he's averaged as a Blue Jay. While that's correct, it's missing some context.
Prior to the trade, Sanchez averaged 22.5% sinkers and 22.3% curveballs according to Statcast. In his first start in Houston he threw only 2.2% sinkers and 30.4% curveballs. The sinker was scrapped in favour of more four-seamers too, going from 35.6% pre-trade to 50% on Saturday. But assuming that was the sole reason he threw six innings of no-hit ball would be premature. He has had starts similar to this before.
On four separate occasions this year, his sinker usage was under 10%.
In another four games this year, and two games last year, his four-seam fastball usage was 49% or higher.
Sanchez had also thrown curveballs 27% of the time or more in five games earlier this year, once last year, and once in 2017.
Of course his start last Saturday played perfectly into our confirmation bias: There go the Astros again, telling a new pitcher to throw more breaking balls and fewer sinkers. But the above data shows that Sanchez has tinkered with his pitch mix in the past and scrapped those changes for various reasons. One of them being blisters and cracked fingernails.
Do the Astros have some fancy new remedy the Blue Jays don't? I suppose it's possible. They are at the forefront of using technology to gain an edge and uh, maybe some other things:
Now, the Astros might have some other secrets, too … But they are synthesizing data/video better than any club pic.twitter.com/BYS1t8zOxJ

— Travis Sawchik (@Travis_Sawchik) August 4, 2019
But before you think a foreign substance was the trick to his no-hit six innings, let's pour cold water on that theory right away. Had something like pine tar been the reason for his effectiveness, we'd probably have seen an increase in spin rate on his pitches. Instead, his spin rates on his four-seamer and curveball remained virtually unchanged from his last start for the Jays and first with the Astros.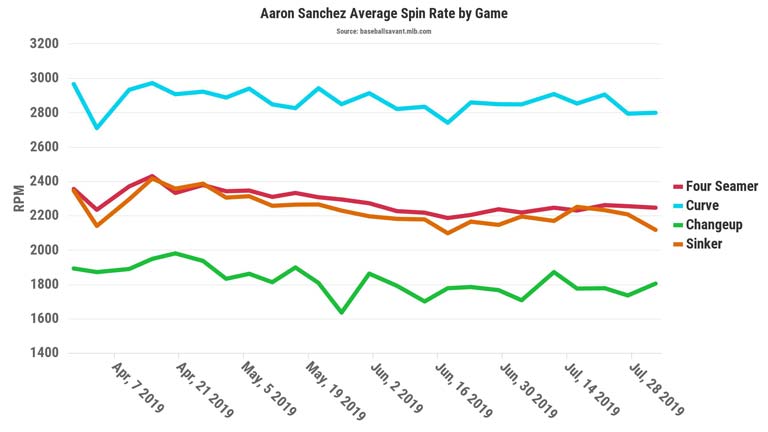 Instead of chalking up a potential resurgence to the Astros and their "devil magic", perhaps we should look at the last two starts Sanchez made as a Blue Jay.
In his July 23rd and 28th starts, changeup usage increased to 27.5%, the highest in back-to-back starts since a pair in April 2018. But that was really the only fundamental change I can see. The biggest difference was that he didn't walk a single batter in those two final starts before the deadline. In his start prior to those, on July 17th in Boston, he walked just one batter. And that was the first time he had walked less than two batters in a game since June 21st of 2018.
While he briefly found some long-lost command in mid-July, he was also throwing slower than he had all year. His average fastball velocity was 92.8 mph in his last start in Toronto. It was 92.7 mph for Houston.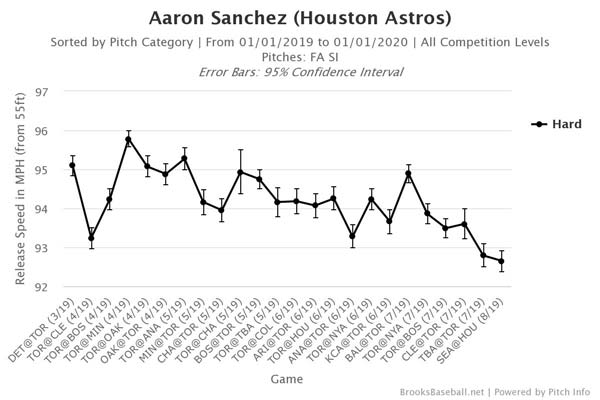 That seemed to fly in the face of my own notion that he would need to find more velocity to be effective again. And while he kept the Mariners hitless on Saturday, he did issue two free passes.
So was this brief uptick in command enough to get the attention of a small handful of pitching-savvy teams, but not alert everyone that a rebound had begun? The Astros knew Fisher had been a target of Atkins' for some time, and every team knew the Jays were in tear-down mode.
In the absence of more data telling us if Sanchez's good week was real or a fluke, they might have sensed the perfect opportunity to buy low. The fact that Biagini and a low-level prospect were also included in the deal tells me that the Astros recognized there was considerable risk in Sanchez. It was possible, and still is, that their return for a promising young outfielder could pitch so badly he wouldn't even be included on the postseason roster. So the serviceable arm in Biagini and the lottery ticket in Stevenson are added to the deal as insurance.
Why Not Keep Him?
A common complaint I've read from Jays fans is why now? Why trade him in the midst of a terrible season when he could potentially rebound in August and September, setting up a better trade return in the winter? The answer is that he was unlikely to.
It's easy to get excited about two good starts, but that wasn't nearly enough to warrant ignoring two and a half seasons of poor performance. Had Sanchez continued to struggle, it's hard to imagine the Jays would've gotten anything at all for him in the winter.
Ok, then why not move him to the bullpen? His velocity would likely go up and he wouldn't have to face a lineup a third time (where he has struggled to a 5.99 ERA for his career). Marketing him in the offseason or next year's trade deadline as a late-game reliever could be enticing for some teams. The answer to that, perhaps, is contained in a tweet on August 3rd from Drew Fairservice.
If only the Blue Jays tried time and again to get Aaron Sanchez to throw more four seamers only to be rebuffed by player and agent.

— Drew (@DrewGROF) August 4, 2019
For someone who is locked in to the team and the market, I have no reason to doubt the accuracy of what Drew is saying. In fact, we've already seen players and the current front office clash in the past – Marcus Stroman most recently, but Josh Donaldson too, when there was some disagreement over his offseason workout routines and rehabbing his leg injury.
From a monetary standpoint it makes sense that Sanchez and his agent would be uninterested in moving to a relief role. That agent, Scott Boras, also has a history of going over the heads of executives to get what he and his client wants. It's entirely possible that Sanchez just dug his heels in all this time when presented with change.
While he altered his pitch mix as a Blue Jay in the past, it was never longer than two consecutive starts. So his next two games in Houston will certainly be worth monitoring to see if these changes are permanent. And more importantly, to see if he can continue to be effective.
If he does turn things around, the next question will be: Why didn't, or wouldn't, he make these changes in Toronto? To that, I can only speculate.
Jays fans are in a weird spot. They really want to believe they won the Sanchez and Stroman trades, and struggles from both pitchers on their new clubs would help cement that belief. But these were two very popular players and it doesn't feel right at all to root against them.
Instead, we're left to wait and watch, to monitor the development of the young players, Fisher included, and hope for the best. Which is exactly what we were going to do anyway, with or without the pair of veteran pitchers.