The Blue Jays traded for Yangervis Solarte on Saturday, sending outfielder Edward Olivares and relief pitcher Jared Carkuff to the Padres. Olivares was ranked 18th by MLB Prospect Pipeline and Carkuff didn't make the list. We mentioned Solarte as a trade target last year in June, and San Diego's return today is thankfully less than we'd anticipated.
In Solarte, the Jays get an infielder who can play all four positions along with corner outfield. It appears that flexibility and depth was the impetus behind this move.
The 30-year old Solarte has played four seasons in the majors, most of them at third base. Although he saw most of his time in 2017 at second base, which figures to be where he'll play the majority of his innings in 2018 with Josh Donaldson locked in at third. While his versatility will be useful to the Jays, advanced fielding metrics take a negative view of his work defensively.
Yangervis Solarte Career Defensive Metrics
Position
Innings
DRS
UZR/150
Third Base
2548.1
-5
-1.2
Second Base
1019.1
-3
-1.7
First Base
278.1
1
-9
Shortstop
222.2
0
7.9
Left Field
40
-2
-97.5
All this adds up to a slightly below average fielder but his bat has mostly made up for it.
Across four seasons he's been worth a respectable 7.1 WAR. However he took a step back in 2017 with a career-low 1.1 WAR and 93 wRC+. Prior to that, in 2014 to 2016, his slash line was .271/.332/.419, which was good for 10% better than league average by wRC+. A switch hitter, he has fared slightly better against right-handed pitching (111 wRC+) versus lefties (92 wRC+).
Toronto is no doubt optimistic he'll return to form and that 2017 represented an aberration, not the norm going forward. And they could very well be right. Despite his down year offensively, there were still positive signs.
Solarte actually improved his plate discipline in 2017, posting a 7.2% walk rate and 11.9% strikeout rate. To put that ratio in context, only 7 other qualified hitters managed to walk more than 7% as well as strikeout less than 12% of the time. So Solarte has some pretty good company.
Qualified Hitters with > 7% BB% and < 12% K% in 2017
Name
G
HR
AVG
OBP
SLG
wRC+
BB%
K%
WAR
Joey Votto
162
36
.320
.454
.578
165
19.0 %
11.7 %
6.6
Jose Ramirez
152
29
.318
.374
.583
148
8.1 %
10.7 %
6.6
Justin Turner
130
21
.322
.415
.53
151
10.9 %
10.3 %
5.5
Mookie Betts
153
24
.264
.344
.459
108
10.8 %
11.1 %
5.3
Andrelton Simmons
158
14
.278
.331
.421
103
7.3 %
10.4 %
4.9
Buster Posey
140
12
.320
.400
.462
128
10.7 %
11.6 %
4.3
Joe Panik
138
10
.288
.347
.421
104
8.0 %
9.4 %
2
Yangervis Solarte
128
18
.255
.314
.416
93
7.2 %
11.9 %
1.1
Even though his low batting average prevented him from translating that into a good OBP, that could rise in the future if his .258 average on balls in play returns to past levels. Prior to 2017 his career BABIP was a much healthier looking .285.
It appeared that Solarte made some changes to his batted ball profile. If he continues tweaking things at the plate, how that will manifest in his batting average and power numbers is an open question. He increased his fly ball rate by a considerable margin but, interestingly, it did not translate into any added power.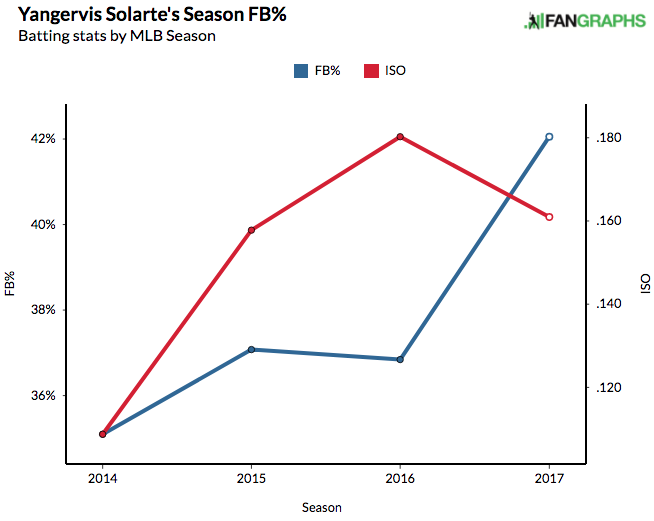 Could Solarte's efforts to hit more balls in the air have gone too far? His infield fly ball rate suggests that it might have, as it skyrocketed to a career high 17.4%. That mark was 5th highest for 144 qualified hitters in 2017. So he may have been getting under the ball too much. Considering infield flies are essentially automatic outs, it probably had a lot to do with his suddenly-low BABIP.
A high infield fly rate isn't necessarily a problem on its own, as some good hitters have rates that high. It can sometimes be a byproduct of an effort to put more balls in the air which, for players who hit the ball hard, results in home runs. The problem with Solarte is that he doesn't hit the ball hard. According to Statcast, his 89.3 mph average on fly balls + line drives ranked 433 of 540 players, placing him down in the 20th percentile.
This is not the batted ball profile you'd like to see from a player who hits as much soft and medium contact as Solarte does. Lowering his launch angle could result in a line drive spike and a bounce back of his BABIP.
Another reason for optimism? I'd be remiss not to mention the most obvious change from 2017 to 2018. Solarte is moving from one of the most pitcher-friendly parks, Petco Field, to a hitter's park in the Dome. It's possible that 4 to 6 of his deeply hit fly balls last season would've turned into home runs at Rogers Centre. Statcast lets you superimpose his spray chart on top of every ballpark in the league. Here it is if Toronto was his home park: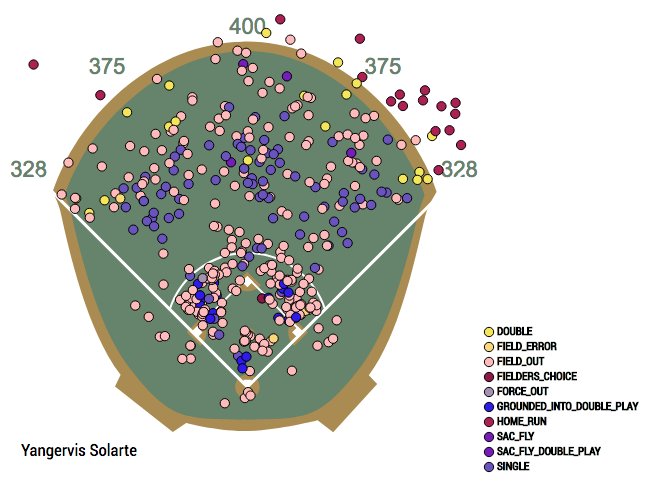 We see lots of outs at the wall. If they don't quite make it over at the Dome, they at least have a good chance to be extra base hits.
His 18 home runs last season weren't a fluke, so it's not impossible to see him become a 20 to 25 home run player in the future. And getting that from a utility player has tremendous value even if his batting average and on base skills remain slightly below average.
Solarte will take home $4.125 million in 2018 and has two team options for 2019 and 2020 valued at $5.5M and $8M respectively. It's a very team-friendly deal and the options will be no-brainers to pickup. The Jays aren't looking for their version of Ben Zobrist and that's good, because that isn't Solarte. But he's a good player who can play all over the field capably.
And he's a super good dude. If you feel like reading up more on your newest Blue Jay, the story Fox Sports did back in June of his wife's death is a tough but encouraging read. No doubt Solarte will be an easy Blue Jay to cheer for come the Spring.