With the Blue Jays' playoff odds sitting at 1.4% today, maybe it's time to start thinking about the long-term outlook for certain players rather than trying to squeeze out an extra win here and there. Especially the players who figure to be a key part of the team 2-3 years from now. And one of those is prized young closer, Roberto Osuna.
If you want a red flag, here's one: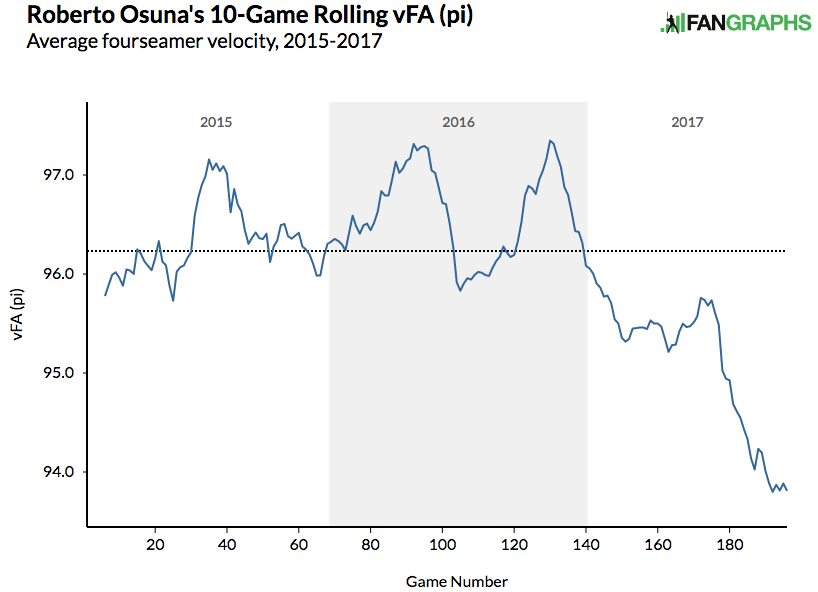 For the first time in his major league career, Osuna's four-seam fastball velocity dipped below 95 mph for 10 appearances in a row this year. And more recently, it's even fallen below 94 mph. The two high peaks in 2016 are 97.3 mph, for comparison's sake. Sure, a pitcher's velocity will fluctuate naturally throughout the course of a season. But the fall has never been so pronounced for Roberto Osuna before this year.
Osuna has already had Tommy John Surgery on his elbow. His workload since 2015 has been one of the highest for all relievers. His 197.1 innings is 4th to Brad Brach, Dellin Betances and Carlos Torres. If this were a veteran 7th or 8th inning relief pitcher, whose long-term future might not be in Toronto, we wouldn't care as much (as callous as that sounds). But Osuna figures to be a significant part of the Jays' plans to contend again when some of their top prospects start reaching the majors soon.
Osuna's value is immense. His 5.8 fWAR since 2015 is the 5th best among relief pitchers, behind the household names of Kenley Jansen, Andrew Miller, Dellin Betances and Aroldis Chapman. Considering the value pitchers like this have provided for their teams, especially in the postseason, this is an arm the Blue Jays will want to take good care of.
The decline in velocity isn't the only bit of interesting data. Osuna's four-seam fastball had been his weapon of choice up until this season but the use of that pitch has declined. He started throwing the cutter a lot more in its place, which makes some sense as it's another hard pitch – but the question is why? He hadn't thrown that pitch at all in 2015 and threw only 39 of them last year.
The slider is another offering that has seen an uptick in usage over the course of this season.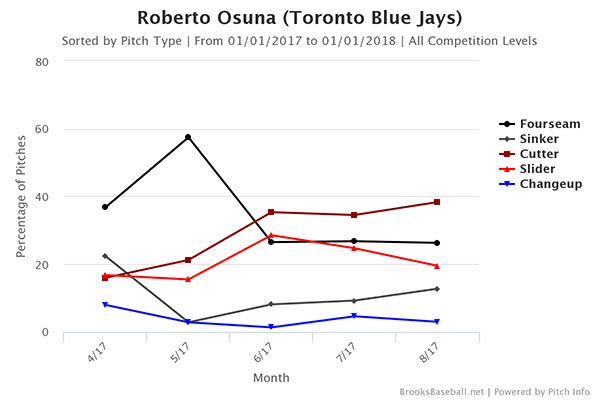 The slider's always been a good pitch for him. Opponents hit just .136/.146/.321 off it last year. But the larger story here is that Osuna has thrown his fast pitches at slower speeds, and less often. With the rise in velocities around the game and a focus put on strikeouts in late innings like never before, this seems like a counterintuitive move. Unless of course there's something physically wrong with him.
To be clear, I'm not saying that there is. But the change in pitch usage and velocity doesn't follow a previous pattern in his career, not does it appear to be a natural fluctuation that tends to happen with healthy pitchers.
As we noted last month, Marco Estrada's change in release point didn't appear to be related to an injury since it followed a previous pattern and also supported what him and pitching coach Pete Walker were saying about mechanical changes.
Osuna, on the other hand, has had a few physical hiccups dating back to October last year.
He was removed from the AL Wild Card game due to a sore shoulder.
He dealt with back and neck issues in Spring Training, being placed on the DL in April for a "cervical spasm."
In June, John Gibbons said they were protecting him due to lingering soreness in his bicep.
"He probably could have gone (Sunday) but we're guarding him," said manager John Gibbons. "He wanted to but sometimes we've got to make the decision for him."
For Osuna's part, he has recently denied there's anything physical at play.
Roberto Osuna acknowledges command & velocity were off today. Says he's confident he'll bounce back. "I don't think anything's wrong"

— Ben Nicholson-Smith (@bnicholsonsmith) August 6, 2017
But at this point in the season everyone has bumps, bruises and soreness. It's a grind, and they don't call them the Dog Days of August for no reason.
It may behoove the Jays to exercise caution with their prized reliever – one of the best in the world at what he does – and if not shut him down completely then ease his workload through the final month of the season. After all, September offers teams expanded rosters and there are a few pitchers in the Jays system who they'd probably like to give auditions to anyway. There shouldn't be any shortage of arms out of the pen over the final few weeks. And hopefully Roberto Osuna can rest up and be 100% for 2018.