The Jays beat the Phillies today in Meaningless Game #1 so we sort of, kind of, have something new to talk about. I can't possibly care anymore about what the remaining free agents are going to do so today's actual game play was a welcomed event.
Joe Biagini got the start, which in itself might actually be notable. That the Jays chose to go with Biagini on Day 1 suggests to me that they will give him a long look as a starter. A few months ago I wrote about how we shouldn't give up on Biagini just yet, and it appears as though the Jays agree. At least for now. He could get shelled in his next three games, lose command of his secondaries, and make me look like an idiot. Wouldn't be the first time.
But for now, we have this minor storyline to monitor. Biagini still has two options left so the Jays can easily begin the regular season with him in the Bisons' Triple-A rotation and promote him if/when needed. Jaime Garcia and Aaron Sanchez are both injury risks so a need could unfortunately arise sooner rather than later.
Biagini looked good today. Sure, it was only two innings but his command of all pitches was sharp. The first screenshot below is of his mechanics while throwing a cutter today. The second image is of him throwing a cutter in his final start of the season last September. The camera angles are a bit different, but the mechanics look practically identical. It's nice to see him hit the ground running this early in the year.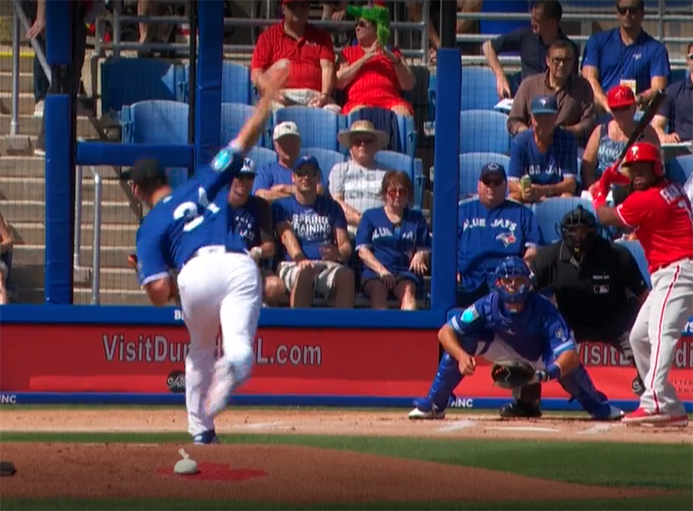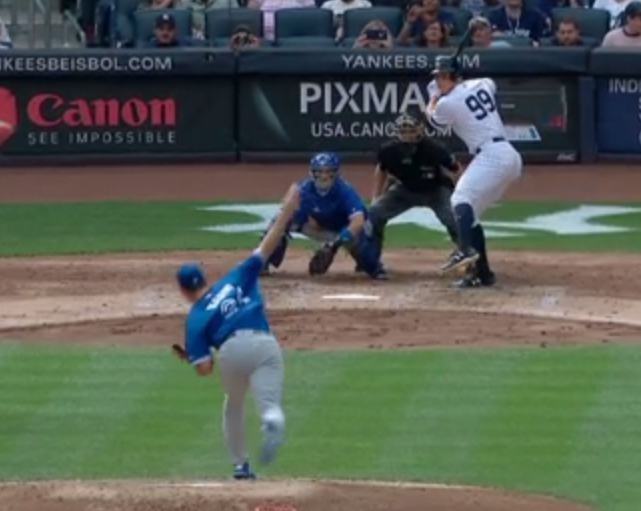 * * *
Pat Tabler may have made an effort in the offseason to improve his analytical chops. Early in the game today he busted out Joe Biagini's 55.7% ground ball percentage from last season. That in and of itself is notable but then he took the unprecedented step of putting it in context with what constitutes a good league-wide rate. I was as shocked as you were to witness this development. While Buck and Pat's comfortable rapport in the booth is exceptional, statistical analysis has never been their strong suit.
Later in the game, Tabby pointed out that the Phillies' infield shift on Richard Urena was actually counterproductive, as the young Blue Jays infielder sprays the ball to all fields. While this is sort of true (Urena went opposite field in the air in 2017, not on the ground) it shows that Tabby might be looking at spray charts. Hell has frozen over people, and I couldn't be happier.
I'm sure we'll be blessed with familiar absurdities like "that's a professional at bat" and "he's a baseball player" throughout the season. But in his first broadcast of the year, Tabler brought his A-game.
* * *
Sean Reid-Foley logged an inning of work today giving up three hits, including a home run. he struggled mightily last season at Double-A, due in large part to a home run problem. 2018 is a big season for the 49th overall pick in the 2014 draft, as he'll be eligible for the Rule 5 draft next winter. This means Toronto might have a tough decision on its hands much like they did with Max Pentecost this past winter.
Leaving the once-heralded pitching prospect unprotected would be a difficult move. As such, the Jays could quickly transition Reid-Foley to a reliever if 2018 gets off on a rough note. They could see if he's more effective out of the pen where his fastball would play up, while also allowing him to contribute in the majors much sooner.
Odds are against Reid-Foley turning into the mid-rotation workhorse the Jays thought they were drafting out of Sandalwood High School four years ago. But he could still be a useful major league piece in a bullpen.
* * *
The Blue Jays defence will hopefully be better in 2018. In the first inning, new addition Randal Grichuk ran back towards the wall to make a nice catch. In the 6th inning, Reese McGuire made an easy stolen base look a lot closer than it should have, aided by a nice pick at second base by Urena. He threw from his knees after Collin Cowgill got a great jump off of Al Alburquerque, who showed little interest in holding the runner on at first.
McGuire's got good instincts behind the plate, quick movements and a good arm. Danny Jansen's stock skyrocketed last year but McGuire isn't far behind. He'll never have much power with the bat but his work defensively seems to be major league-ready. Should Luke Maile falter (or, more accurately, continue to be awful at the plate) it's possible the Jays give a younger backstop a look during the season.
That figures to be Jansen, and in such a situation McGuire's path to playing time in AAA opens up. Max Pentecost is also in the mix, but the team will most likely be cautious with him given his lengthy injury history. Needless to say, Luke Maile's job security appears to be far more volatile in 2018 than it was in 2017.
* * *
Baseball's back and I couldn't be happier. We finally have something to talk about. And given all the new faces in Florida this year, the Blue Jays figure to be a very interesting team to follow.