Now, hear me out. (That's how all good arguments start, right?)
For the record, I really enjoy watching Devon Travis play baseball. He's a good player and a likeable guy. I'm sure the Blue Jays would trade Anthony Gose a thousand times over for Travis without hesitation. I'm also sure the Jays would love it if Travis stayed on the field more.
In three seasons in Toronto he's managed to play in just 213 games due to injuries. The missed time has been all the more noticeable given the woeful backups the team has had to rely on: Darwin Barney, Ryan Goins, Munenori Kawasaki, Steve Tolleson, Cliff Pennington and Rob Refsnyder, also known as the Poster Boys of Replacement Level. And when your 34 year old catcher is seeing innings at second base, you have a big problem. That's not fair to ask of Russell Martin, even if it's only a couple innings here and there.
When healthy, Travis has produced like an elite second baseman. Over three partial seasons he has a 5.0 WAR per 650 PA pace. Only three second basemen posted five or more wins in 2017. If he was able to stay healthy, the Jays would've had a stud at the keystone and likely their every day leadoff hitter.
Unfortunately that hasn't been the case.
The Blue Jays swung a nice trade earlier in the offseason for the Cardinals' Aledmys Diaz. If he produces like he did in his 2016 All Star campaign, the Jays will have more than enough insurance if Travis suffers another injury. And they might have a stop gap between now and when Bo Bichette makes the Show.
I'm assume two things here: First, Diaz is closer to the 133 wRC+ and 2.7 WAR player he was in 2016 and not the replacement level version in 2017. Second, Bo Bichette's development continues well and he is the second baseman of the future in 2019.
If the Jays are confident of both things happening they could view Devon Travis as a trade chip rather than a piece of the future. Especially in light of some negative trends.
Travis' production has dropped in each of the last two seasons after tearing up the league in his 2015 debut.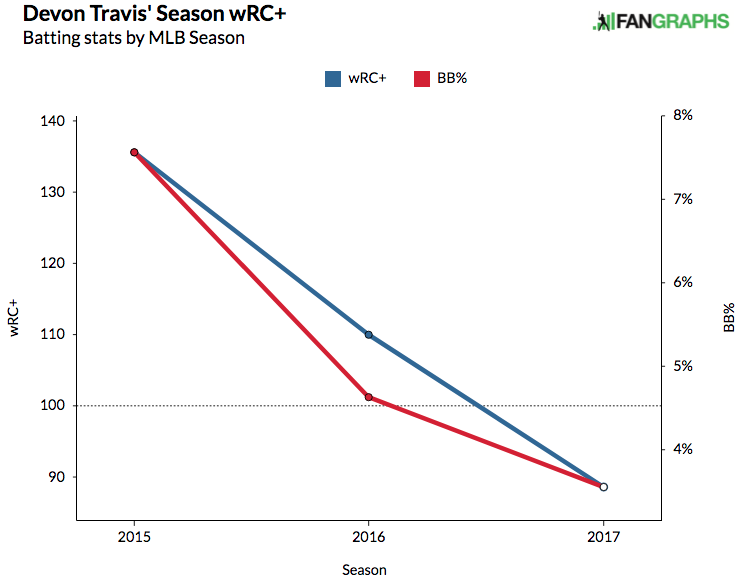 This past season his run production dropped below league average for the first time. Also concerning is his inability to take a walk. That was never his strong suit, even in the minors, but 3.6% is quite bad for any major league player. To wit, the only above average hitter by way of wRC+ in 2017 who also had a BB% under 4% was Yulieski Gurriel. Generally those things go hand in hand – if you're a good player, you can take a walk.
In Travis' case, he'll need to maintain a high batting average to prop up his on base skills. If his surgically altered knee doesn't hold up, that could zap his speed and his ability to reach first and take extra bases on hits. I hesitate to put too much stock into these trends since he simply doesn't have a big sample size. 50 games in 2017 isn't a whole lot to go on and it's possible he can reverse things in 2018.
And the Jays don't need to trade Travis. He's under team control for another three seasons. But while that's great for the Jays, it could also make him appealing to other teams looking for an upgrade at second base.
The Angels recently traded for Ian Kinsler, which might indicate there was an opportunity to move Travis and the Jays passed it up. But it's also possible that the Angels simply didn't have the prospects, or weren't willing to move ones that GM Ross Atkins desired. Their farm system is one of the weakest in baseball so they're probably not interested in trading the few good prospects they do have like Kevin Maitan or Jo Adell.
Finding a new home for Travis might not be easy – second base is a deep position and most of the good teams already have it covered. Travis wouldn't be the only one on the trade block either. The A's might want to cash in on Jed Lowrie's excellent season in the final year of his contract. And according to reports prior to Giancarlo Stanton's trade to the Yankees, the Giants had included Joe Panik in their offer to the Marlins.
The Brewers and Diamondbacks stand out as being potential landing spots for Travis. Both teams have postseason aspirations and not great options at second base.
The Brewers in particular have a strong farm system and might part with an outfielder like Corey Ray or Monte Harrison given their depth at the position. Ray took a step back in 2017 and the Brewers kept him at Advanced-A. His prospect stock is low but his ceiling is still high with a tantalizing power-speed combo. Harrison is as toolsy an outfielder as you'll find but is unpolished and far away from the majors. There is some real risk that neither becomes a good major league player.
The D'backs system is not as strong but a pitcher like Taylor Clarke is close to MLB-ready. While his ceiling is lower than the two Brewers prospects, his floor is higher. That might be more appealing to the Jays, who have a need for starting pitchers past 2018. There is a good chance that prospects like TJ Zeuch, Sean Reid-Foley or Conner Greene end up in the bullpen.
If Gleyber Torres is a shortstop long-term, the Yankees will also have a need at second. Although it's hard to fathom a deal between two division rivals.
The nice thing about Travis is that his three years of team control may make him appealing to teams who are aiming for contention a year or two from now. That might open up fits in San Diego or Colorado.
The Padres have two great looking infield prospects in Luis Urias and Fernando Tatis Jr. But the former looks skilled enough to stick at shortstop and Tatis profiles at third base. The Friars have also been linked to free agent Eric Hosmer which might suggest they aim to be competitive sooner rather than later.
Colorado has DJ LeMahieu next season but he's a free agent heading into 2019. Although Ryan McMahon might be answer at second long-term if his strong hitting in the minors translates to the majors.
From my perspective, there are fits around baseball for Devon Travis. Another team may even choose to utilize him more creatively, splitting time in the infield and a corner outfield spot. The Jays would be subtracting from their major league roster, something Ross Atkins has suggested he doesn't want to do. But seven months from now, or next winter, things may change.
So is trading Devon Travis a good idea? There's certainly a case to be made against it. His value isn't as high as it could be and there's big upside to him if he can stay healthy. But that's a pretty big "if". And if the Jays want to improve the minor league system without trading Josh Donaldson, players like Travis need to be considered.