When it comes to filling the 5th spot in the Blue Jays rotation this winter, a free agent like Alex Cobb might make sense.
Cobb has gone through a bit of a transformation lately. He looked like a potential ace (at least in context of the Rays' 2014 pitching staff) but was a victim to Tommy John surgery. He missed all of 2015 and most of 2016 but bounced back in 2017 to pitch almost 180 effective innings to a 3.66 ERA. However his 4.16 FIP, 4.24 xFIP and 6.4 K/9 indicated that he still has a long way to go to recapture his pre-TJS form.
The success rate for pitchers who undergo elbow ligament replacement is very high. And on the surface Cobb appears to be another positive statistic to this end. But under the surface there are some big differences between Cobb today and Cobb pre-surgery. Let's look at the biggest one.
The Splitter is Gone
Cobb was known for his devastating split-changeup prior to surgery. According to Fangraphs' pitch value metric, only three qualified starters had better changeups than Cobb in 2014. And its 38% usage was higher than any other pitcher's changeup that year, by far. It was a real weapon. He generated a 30% strikeout rate with it and hitters managed to hit a scant .191/.227/.257 slash line against it.
But after he returned from Tommy John Surgery, the feel for the splitter was gone. He made 5 starts over 22 innings in 2016. The strikeout rate on the splitter dropped to 18% and the opposition's slugging percentage ballooned to .469. His off-speed weapon was no longer effective and he didn't look like the same guy who had put up back-to-back seasons of sub-3 ERA across 49 starts.
In his first full season after TJS, the concerning numbers remained. His 6.4 K/9 ranked 10th lowest in 2017, his home run rate was up and his ground ball rate was down. The fact that he didn't miss bats as much might be the most concerning thing. His 6.7% swinging strike rate was 3rd lowest this year, ahead of only Andrew Cashner and Ty Blach – two pitchers who have had their share of struggles. It's pretty hard to imagine a starting pitcher being effective today without much swing and miss in his arsenal.
Luckily for Cobb, he improved in the season's second half.
Change in Repertoire, Better Results
If we look at 2017 in 5 game rolling stretches we see that Cobb changed his approach, culminating with a really good end to the year. How did he get there? Well he took the sensible approach of not throwing a pitch that he didn't have a good feel for. Once one of the best off-speed pitches in baseball, his splitter slowly began to disappear.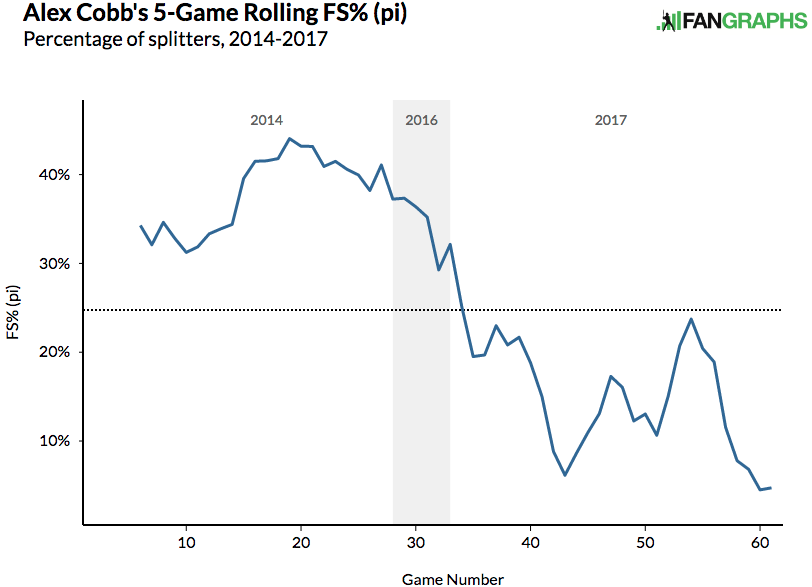 He began relying more on the curveball for off-speed and the sinker for hard stuff. The only problem was that his velocity on the sinker was way down at the start of the year. In April and May it averaged just 89.7 mph in perceived velocity according to Statcast. But as it ticked up in the season's second half, results followed: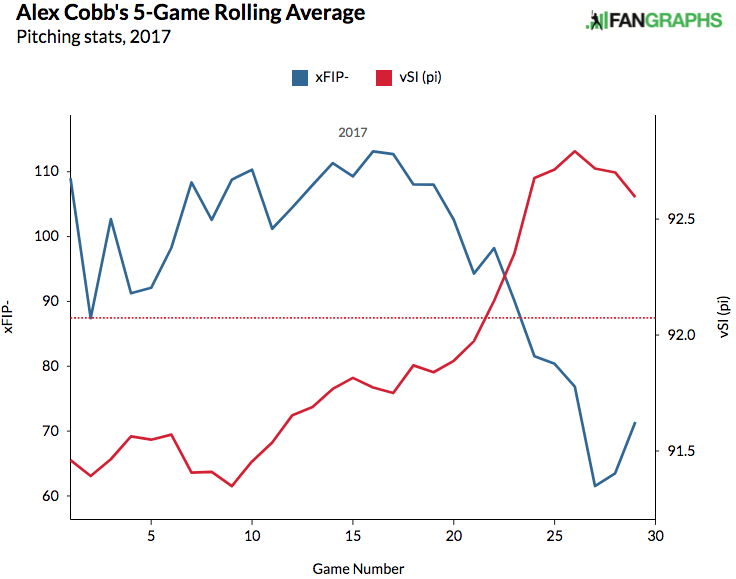 From August 1st to his final start on September 22nd, the results were exceptional:
2.82 ERA
3.16 FIP
3.01 xFIP
54.1% ground ball rate
And the strikeouts came back too, interestingly mirroring his rise in fastball velocity: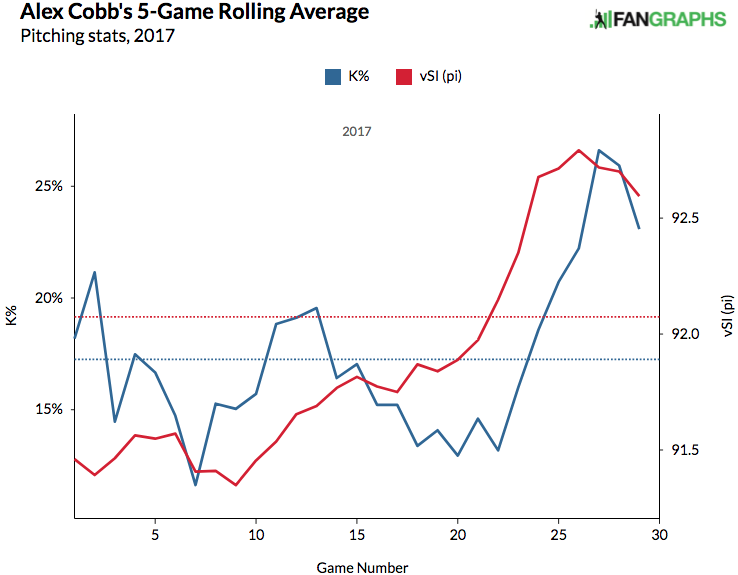 He was especially effective against left-handed hitters too, generating a 2.60 ERA, 2.64 FIP and 57% ground ball rate in August and September. His success wasn't BABIP or strand rate-inflated either – he was missing bats again and showing good command, as his 24% strikeout and 5% walk rate proved.
Of course there's only so much we should take from a stretch of 7 starts. It's an incredibly small sample size and even mediocre pitchers have good stretches. But there were some underlying signs that suggest Cobb was changing and changing for the better. And, he has to. A 6.4 K/9 rate is horrible, and unless his feel for the splitter comes back, he'll have to hope the sinker-curveball combination remains successful.
Cobb hasn't done this yet across a large enough sample size to confidently say "this is who he is now". His last two months of 2017 bore results of a staff ace but hitters will probably make their own adjustments to him in 2018. The predicament for teams this winter is how much to do you pay him betting on those 7 starts?
There is some health risk with Cobb too. Not only does he have a Tommy John surgery on his resume, he's also had thoracic outlet surgery. The biggest predictor for future injuries is past injuries, so this should be reflected in the contract Cobb signs.
The Jays will have to read the market for him and not get caught up in a bidding war. If teams that miss out on Yu Darvish and Jake Arrieta become desperate, Cobb may price himself out of Ross Atkins' comfort zone. If Cobb's K rate declines or hitters adjust to his new approach, he'll start looking like an average 5th starter. Paying $50 million for 5th starters is not money well spent, considering other pitchers who fit that bill will be available for much, much less (Doug Fister and Tyler Chatwood come to mind).
But it's possible that the team who signs Cobb gets a really good pitcher and potentially at a bargain price. He's a fascinating case of a pitcher making adjustments and finding his way after major surgery. And he's a free agent before we really know what he's going to be. One team out there is going to take the chance on him and play the lottery. Will it be the Jays?