Since the Blue Jays tried and failed to acquire Jay Bruce during the 2016 offseason, his name has remained linked to the team. The rumours have now surfaced in earnest, with MLBTR even predicting that the Jays will sign him to a 3 year, $39 million contract. This is not a good idea.
You've heard Mark Shapiro and Ross Atkins talk about the need to get younger, more athletic and more versatile. Jay Bruce checks none of these boxes. In fact, the only box he checks is hitting left-handed. Sure, he's probably good for 30 home runs next season. But so is Kendrys Morales and no one is looking fondly on that 3 year contract.
Morales and Bruce isn't exactly an apples-to-apples comparison but it's not far off.
He's a bad base runner
Bruce has been a below average baserunner for the last three seasons, per Fangraphs' BsR metric. In fact, of the 87 qualified outfielders to play from 2015 through 2017, Bruce ranks 78th in BsR. Just below him are the positively-unathletic Seth Smith and Carlos Beltran. And there's another familiar name ranked 81st: Jose Bautista. (click 'Next' a few times to see the bottom of the rankings)
Worst Base Runners since 2015
Name
Team
G
BsR
77
Matt Kemp
- - -
425
-6
78
Jay Bruce
- - -
450
-6.7
79
Seth Smith
- - -
384
-7
80
Carlos Beltran
- - -
413
-7.1
81
Jose Bautista
Blue Jays
426
-7.8
82
Yasmany Tomas
Diamondbacks
305
-8
83
Stephen Piscotty
Cardinals
323
-8.5
84
Matt Holliday
- - -
288
-9.7
85
Nelson Cruz
Mariners
462
-9.8
86
Melky Cabrera
- - -
465
-10.5
87
J.D. Martinez
- - -
397
-11.2
The franchise icon's game fell off a cliff last season. Do fans really want to see another older, slow, one-dimensional player patrol right field again?
Calling Bruce old isn't entirely fair. He'll be 31 next season and presumably has some good years left in him. But the days of him stealing bases are over so there's little-to-no upside in this respect. The Jays had virtually no threat on the bases this year and ranked 29th as a team in base running. If the goal is to contend again in 2018, this is an area that needs improvement.
Defensively he's not that good
Jay Bruce graded out well by defensive metrics this season but take that with a grain of salt. Fangraphs suggests using three year sample sizes for an accurate portrayal of a player's underlying defensive skill. Bruce's totals from 2015-2017 are -1 DRS and -4.0 UZR/150.
It's also interesting that his numbers were better during his two stints with the Mets in 2016 and 2017.
DRS
2016 Reds: -13
2016 Mets: 2
2017 Indians: -4
2017 Mets: 9
UZR/150
2016 Reds: -17.6
2016 Mets: 11.1
2017 Indians: -0.3
2017 Mets: 3.2
It could just be natural fluctuations you see in small sample sizes but for it to happen two years in a row suggests that something might've been up.
Terry Collins wasn't shy about using some out-of-the-box defensive methods as manager, so it's possible Bruce's deficiencies were partially hidden in New York if his starting defensive positioning was slightly deeper in right field. Because, let's be honest, running back towards a wall doesn't seem like a strong suit of his: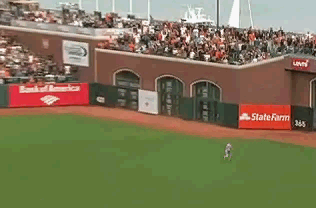 Why Bruce decided to pull up 30 feet short of the wall is a mystery that he probably couldn't even explain. He's played 31 games in his career at AT&T Park in San Francisco so it's not like the right field configuration was new to him.
Unfortunately, ranging to his right also seems to give him trouble.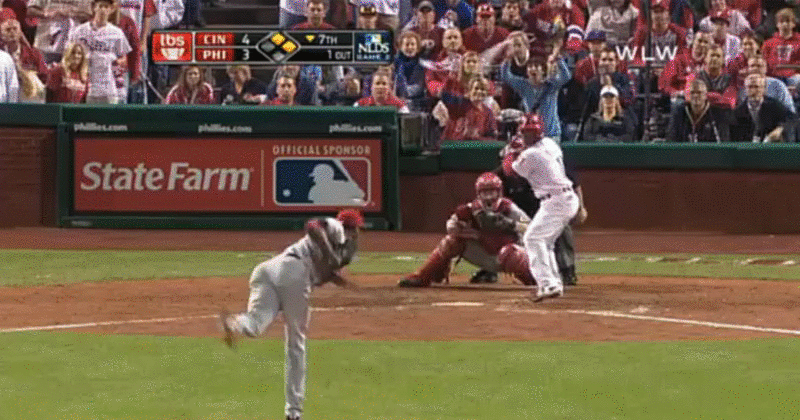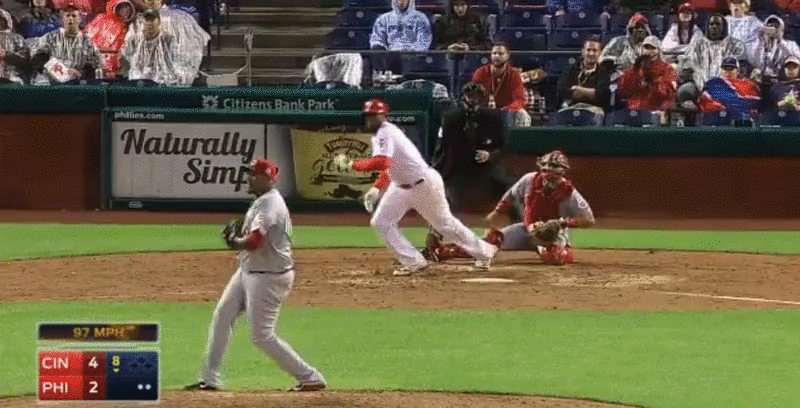 You know that feeling when you're forced to participate in a sport you're just not very good at? Maybe some friends drag you out to a bowling alley, unaware or unconcerned that you've bowled a total of zero times in your life. What Bruce did in the above GIF is the baseball equivalent of all those gutter balls you're about to make.
Sure, the stats say he was above average defensively this year but I'm going to defer to the whole sample size thing. The team that signs him will not be getting a great defensive player. They'll be relying on him to provide power at the plate in the middle of the lineup.
With that said…
Is Bruce's 2017 season repeatable?
If the Blue Jays think Jay Bruce can replicate his 2017 production at the plate over the course of a three year contract, signing him makes a lot of sense. But his 2014 and 2015 seasons present a floor in production that could make a multi-year contract too risky a proposition. Of the 35 right fielders with 800 or more plate appearances from 2014-2015, here is where Bruce ranked in several important statistical categories.
.222 AVG (35th)
.288 OBP (35th)
.406 SLG (27th)
87 wRC+ (32nd)
.299 wOBA (32nd)
24.6% K% (31st)
-0.6 fWAR (35th)
If he were to slump like that again, the 3 year $39M contract MLBTR predicts could be a disaster.
Even his 2016 season, in which he slashed a much better .250/.309/.506 was only 11 percent better than league average per wRC+. And his poor defense and base running ate up most of the value his bat provided, leaving him with a paltry 0.9 fWAR and 0.6 rWAR.
Would the Blue Jays be getting that version of Bruce or the 2017 version where he was worth 2.7 wins above replacement?
Even if the answer lies somewhere in between, it's not out of the realm of possibility that there are players already on the roster who could contribute similarly in right field next year. Anthony Alford remains one of the team's best prospects and Teoscar Hernandez's impressive September has many thinking he can be an every day corner outfielder. Instead of spending $13 million in free agency, the Jays could get much better value if a young player can step up and grab the role at the league minimum salary of $545,000. If one can't, Steve Pearce still exists, as he is signed for another year at $6.25M. Dalton Pompey, Dwight Smith Jr, J.D. Davis, and the Bisons' MVP this season Roemon Fields, are perhaps darkhorse candidates to play right field next season.
Bruce is not the "impact bat" Atkins wants
At Ross Atkins' end-of-season press conference, the General Manager spoke of adding an "impact arm and an impact bat" this offseason. Despite producing his best year since 2012, Jay Bruce likely isn't going to make a big impact in the lineup. His 118 wRC+ ranked 51st among qualified hitters this season, behind Yuli Gurriel and Eugenio Suarez. Adding a bat of that caliber can hardly be described as making a big impact. And keep in mind that wRC+ does not incorporate base running or stolen bases, an area of Bruce's game that would subtract from his offensive value.
The dangers of paying for a player coming off a season that he probably won't replicate are obvious. One only has to look at the trades Alex Anthopoulos made with the Mets and Rockies to see the perils of buying high.
I get that the team plans on contending in 2018 and money will need to be spent on an established hitter instead of waiting and hoping a prospect finally grabs a starting role. But poor fielding, bad OBP and bad base running cost the Jays a lot of runs last season. Jay Bruce does none of these things well. Does he really feel like the guy they need to go out and get this offseason?