Semi-regular outfielder Ezequiel Carrera has had a pretty unremarkable career to date. A useful player due to his speed and perceived defensive value, he's carved out a role with the Jays over the past three seasons. Up until this year, he never provided much offence, with campaigns of 90 and 85 wRC+ in Toronto.
This year, however, he's seen his walk rate rise, strikeout rate decrease and has been 10% better than league average offensively per wRC+. Sure, his .362 BABIP suggests that his career year might be a little luck-related, but his batted ball profile has legitimately changed.
Among players who had 300 plate appearances in 2016 and 250 or more in 2017, Carrera ranks 14th out of 301 in lowering his ground ball/fly ball ratio. You could argue that this change is the most remarkable thing he's done in his career to date. It seems like a conscious effort on his part to join the fly ball revolution.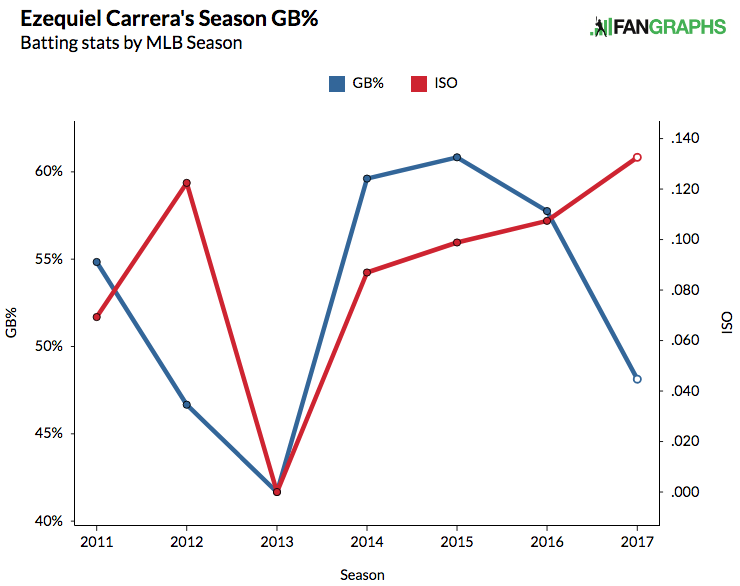 Both of these trends are good. And while no one will be mistaking Carrera for a slugger, he has shown double digit home run ability if given enough playing time. That's nothing to sneeze at from a team's 4th outfielder, especially one who could probably snag 20 bases given an every day role and a more aggressive base running philosophy from the manager.
But is he more than a 4th outfielder? Entering his 2nd arbitration year, Carrera will command a modest raise on his $1.16M salary. With Teoscar Hernandez, Anthony Alford, Dwight Smith Jr, Steve Pearce and perhaps even Michael Saunders in the mix for corner OF spots next season, Carrera might be in tough to see an increase in playing time. But he would fill a glaring need for the team in the speed and OBP department. His OBP is actually 2nd highest on the team among regular players.
But oh yeah, about that defense. Carrera has often been utilized by manager John Gibbons as a late game defensive replacement. This seems… unwise.
For his career, he has a -11 DRS (Defensive Runs Saved) and -2.9 UZR/150 in 1,223.2 innings in left field. Of the three components that make up Ultimate Zone Rating for outfielders (range, errors, throwing ability) the one area he struggles in is throwing. That can be mitigated to an extent by playing left field but if the Jays plan on contending in 2018, corner outfield defense is an area they will need to improve at.
There is also the issue of platoon splits. Carrera's results against left-handed pitching this season have been abysmal as his .103/.257/.138 slash line and 27.8% strikeout percentage suggest. But he's walked 16.7% of the time and has an unsustainably low .158 BABIP compared to a .344 career rate against lefties. It's not a foregone conclusion that Carrera should only hit against righties, which certainly helps his cause to see more playing time.
What does all this add up to? A mildly interesting corner outfield option for the Jays next year. And if he can rebound against lefties, maintain his ability to get on base, the Jays might actually have something more.
It looks like he's made a conscious effort to put more balls in the air, and that's smart. It's also a sample size of just 299 plate appearances so his future projections remain mostly unchanged by the ZiPS and Steamer systems – an 89 and 85 wRC+ respectively for the rest of the season. But hitters doing things they haven't done in the past is interesting and worth monitoring going forward.