Yesterday the Blue Jays pulled the trigger on two trades. Francisco Liriano headed to the Astros and Joe Smith went to the Indians. General Manager Ross Atkins was able to pluck prospect Teoscar Hernandez from Houston (who immediately slots in as the Blue Jays' #5 prospect according to MLB Pipeline) as well as left-handed pitcher Thomas Pannone (#21) and shortstop Samad Taylor (not ranked) from Cleveland. 35-year old outfielder Nori Aoki was also part of the Liriano deal, likely included to help offset salary more than anything else.
Teoscar Hernandez
Hernandez is the prospect closest to contributing to the major league team. He already made his debut last year, appearing in 41 games and producing a triple slash line of .230/.304/.420, and has played in one game this year.
From MLB Pipeline:
Hernandez has plus speed and knows how to use it on the bases, making him a potential 20-20 threat. His quickness doesn't play as well in the outfield, where his instincts remain somewhat raw. He's a competent center fielder and more of an asset in right field, where he has a strong arm and saw most of his action in 2016.
From John Sickels at MinorLeagueBall.com:
Teoscar Hernandez has entrancing tools: he's fast and strong and could develop into a 20/20 player. He's a very good defensive outfielder with a strong throwing arm and enough range for center field. He hustles and is, frankly, fun to watch.
Sickels also adds that there's been improvement in what had been a notable area of weakness:
Reports from Pacific Coast League observers indicate that he's made progress with his pitch selection and isn't as vulnerable to chasing outside the zone as he was last year. We'll have to see if that remains true in the majors but his progress over the last 12 months is undeniable.
Prior to the season, Fangraphs' Eric Longenhagen noted:
"The contact issues that plagued Hernandez in 2015 seem solved and the rest of his tools, all average or a tick above, are all free to play in games now that Hernandez is a functional offensive player." Eric added that "Hernandez projects as a second-division regular."
More recently, Chris Mitchell of Fangraphs writes:
In Triple-A, he flashed his typical power-speed combination, racking up 12 homers and 12 steals in 79 games (though he was caught stealing seven times). In addition to his power and speed, Hernandez also draws a healthy amount of walks and has played solid right-field defense this year. He struck out in an acceptable 21% of plate appearances this year, which is a huge improvement from where he was a few years ago.
Clay Davenport grades his right field defense this year as 5 runs above average, an improvement from previous minor league seasons.
Between Hernandez, Ezequiel Carrera, Anthony Alford, Dwight Smith Jr., Dalton Pompey, Jonathan Davis and Harold Ramirez, the Blue Jays should have some potential replacements should they decide to move on from Jose Bautista in the offseason.
A league average corner outfielder with good-not-great speed and power tools might not sound very exiting, but getting a potential every day player for a pitcher with a 5.88 ERA whose contract expired in two months is a win for the Jays.
Thomas Pannone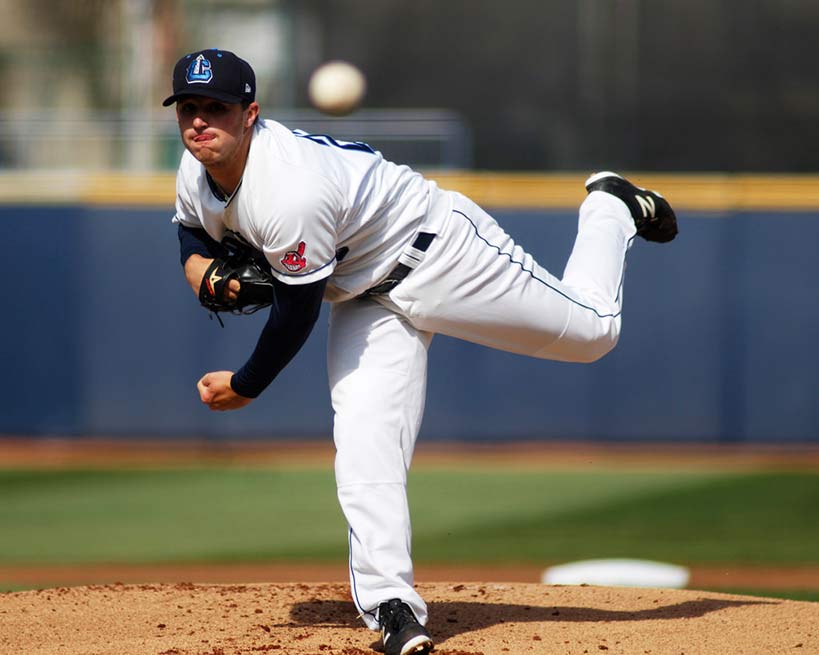 Pitching prospects are notoriously volatile. And Thomas Pannone is a pitching prospect. He's also a lefty who doesn't possess an overpowering fastball. With that in mind, however, he's adjusted very well to his first taste of AA this year, starting 14 games for 82.1 innings with a 2.62 ERA, 2.94 FIP, 3.38 xFIP and an 11.8% swinging strike rate. Certainly nothing to sneeze at even if the player is not well below the average age for that level.
It's worth noting that Akron is a slightly pitcher-friendly environment but his minor league track record shows an ability to limit home runs and walks in other ballparks. He's also pitched quite effectively on the road this season, posting a 2.21 ERA and 0.96 WHIP across two levels. Pannone also appeared in the Eastern League All Star Game this year.
MLB Pipeline wrote:
Pannone can run his fastball up to 92-93 mph but usually sits more in the 88-91 mph range. Though not overpowering, Pannone's heater plays above its velocity on account of his deception, allowing him to induce whiffs inside the zone. He has good feel for his curveball, showing the ability to throw it for a strike and also bury it in the dirt when vying for whiffs, and he's adept at adding and subtracting with the pitch as needed. His changeup gives him a third average-or-better offering, albeit one he uses sparingly, and he has good command of all three pitches.
He's shown the ability to work late into games, going at least 6 innings in 7 of his last 11 starts. Most prospect publications peg his future potential as a backend starter.
In May this year, he was in the midst of an impressive unearned run streak of 51.1 innings dating back to August 2016. At the time Jim Callis said this:
Drafted out of a Rhode Island high school by the Cubs in the 33rd round in 2012, Pannone was a two-way player at the JC of Southern Nevada in 2013 before signing with the Indians for $120,000 as a ninth-rounder. He took off after making some delivery adjustments last year, though his dominance is hard to explain. Pannone works with a 90-92 mph and can throw strikes with a decent curveball and changeup, and while his stuff isn't overwhelming, hitters just don't seem to see his fastball.
Considering it took Pannone a little while longer to become a pitcher full-time, the age consideration may be less of an issue. He's still making mechanical adjustments and may continue to need time at AA and AAA before ever making an impact on the Jays. While the ceiling isn't as high as someone like Conner Greene, his command of three pitches is good enough where his risk of becoming a reliever is lower than Greene's.
Samad Taylor
Perfect Game gave Taylor a 9.5 PG Rating in 2014 while in high school. A 9.0 is defined as "Potential top 10 round pick and/or highest level college prospect" so they were pretty high on him prior to the draft. While he's no longer considered a borderline elite prospect, or even one worthy of making organizational lists, Taylor does possess interesting tools and excellent athleticism. Youth and athleticism are two things the team is in dire need of at the major league level and Taylor is one of many position players who might one day bring that.
CBSSports.com wrote:
Taylor is just 19 years old, but he's already performing in short-season ball. In 120 at-bats with short-season Mahoning Valley, he batted .300 with four homers and four stolen bases. He's a ways away from the big leagues, but the initial returns make him an intriguing infield prospect for Toronto.
Mahoning Valley of the New York-Penn league is a very hitter-friendly ballpark, so his production should be taken with a grain of salt. His home-away splits are a bit alarming:
Home: .364/.386/.561
Away: .222/.259/.352
It's also not a very big sample size, and at 5'10" it's possible his power ends up being more gap-to-gap than over the wall against advanced pitching.
Taylor's a lottery ticket. But a lottery ticket with good tools in return for a 33-year old relief pitcher is a nice piece to get.
There was some discussion about whether the Blue Jays would embark on a bigger tear-down at the deadline, with names like Happ, Estrada and Bautista being mentioned. But what happened yesterday was a soft sell that allows them to still make a push for a Wild Card spot this season while at the same time adding prospects to the system. Hernandez may even make an impact as early as August if the team wishes to call him up and use him as a 4th outfielder, or in case of injury.