Prior to the season, Luke Maile was not a familiar name to the fan base. He had spent five seasons in the Tampa Bay Rays organization after being taken in the 8th round of the 2012 draft. The Blue Jays claimed him off waivers as an insurance plan to an insurance plan. In other words, Maile was not likely to see any major league action this season unless something bad happened on the big club.
Something bad happened. The Jays' backup catcher, Jarrod Saltalamacchia, slashed .040/.077/.040 in 26 plate appearances, striking out in 16 of them. He was also 0-for-9 throwing out base stealers. The Jays' patience ran out quickly and they sent him packing.
Maile didn't exactly prove to be an upgrade early on, going 1-for-36 in his first 11 games. Since then, he's hit .209 with 2 home runs. Not exactly stellar but the Jays seem content with his ability behind the plate. Named the 2013 Defensive Catcher of the Year in the Midwest League by Baseball America, Maile is proving why he earned that honour. He's been a capable game caller with the Toronto staff and ranks well in defensive metrics.
Baseball Prospectus' FRAA (Fielding Runs Above Average) adjusted metric ranks Maile as the 22nd best defensive catcher in the majors so far this year, of a possible 79.
ClayDavenport.com is a site that has developed defensive stats for the majors and minors. It lists Maile with an average of +13 runs in the minors and +1 in the majors. This lends credence to the idea that Maile is a good defensive catcher.
With the Jays this year, he's thrown out 33% of would-be base stealers (5-for-15). League average so far has been 28%.
With that out of the way, let's turn our attention to his hitting.
There's much less to like about this aspect of his game. While Maile has maintained his desire to improve at the plate, the results thus far have not measured up.
His hard hit rate of 19% this season is extremely low. Of 343 players with 80 plate appearances this year Maile ranks 334th. He is also a ground ball machine (great for a pitcher, not so much for a hitter) as his 62.1% GB% ranks 6th highest of those 343 players.
As you can see from his Statcast launch chart, he's putting a lot of balls into the ground and rarely hitting anything in the air. These are such low probability balls in play that it's no wonder his batting average sits at .132.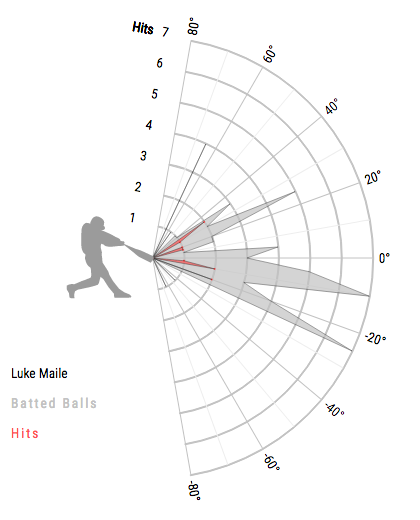 He's proven in the past to be able to put balls in the air though. Here's his launch angle chart in 161 plate appearances from 2015-16 while with Tampa.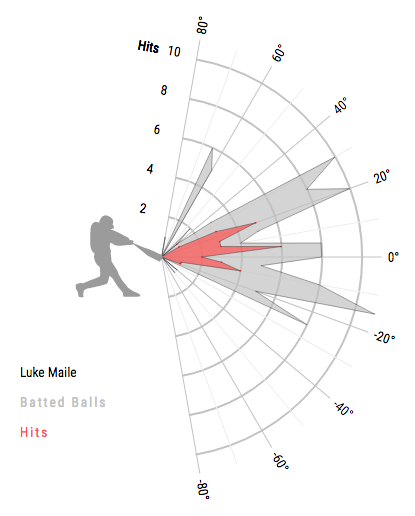 He wasn't setting the world on fire by any means, but he was hitting the ball harder and higher, and wasn't a total drain offensively for a backup catcher like he is now. He was also swinging and missing more then compared to this season. Has it been a conscious effort on his part to swing less this year to avoid all those whiffs? Could be:
Swing %
2015: 54.3%
2016: 47.9%
2017: 45.2%
But perhaps the most glaring difference between the Tampa version of Maile and the Toronto version is his hitting mechanics.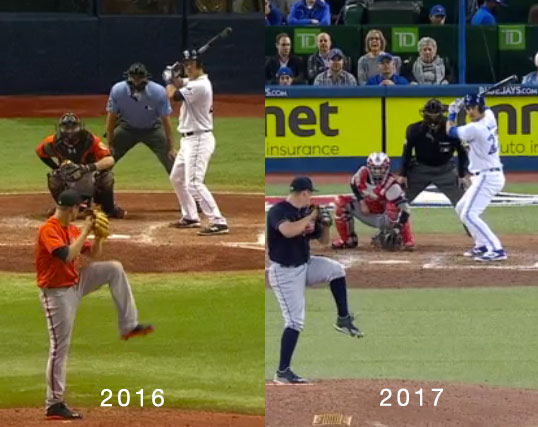 He was far more upright in Tampa and showed a bit more of an open stance (even accounting for the difference in camera angles). His hands are higher this year and farther back. The upright stance can even be seen in 2014 as this video via Prospect Pipeline shows.
These aren't the only recent changes he's made.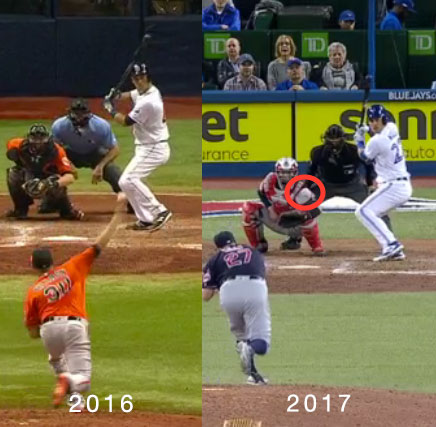 I've frozen the video in each frame at the moment Maile's front foot is at its highest point off the ground. The amount of foot movement doesn't look much different year to year – the real difference is when he's moved it.
In 2016 his foot is at its highest off the ground just as the ball is being released from the pitcher's hand. In 2017 the ball is much farther along – it was hard to see so I've highlighted it.
Shaw's throwing arm is already falling well in front of his body after its release and the ball is well along its path to the plate.
Timing is obviously very important to a hitter's swing and it appears from this comparison that Maile's swing has changed significantly in the past few months. And perhaps not for the better. At least in the early going the results aren't bearing that out.
Changes can take time and repetitions to manifest, and Maile is still just 26 years old. He's a work in progress. And while he's never shown a big propensity for power in the minors (a .304 SLG and .085 ISO at the AAA level) his swinging strike and contact rates this year aren't horrible either.
If he can work on making more solid contact without sacrificing the plate discipline gains, he might actually hit enough to play the part of a regular backup at the major league level.
As it is now, the Jays are glad he works well with the pitching staff and can call a good game when Russell Martin needs a day off.
There's a reason why the Jays were so quick to part with Saltalamacchia and have given Maile a longer rope. I think they see some untapped potential. Hopefully some more work in the cage and with the coaching staff will lead to him realizing it.