According to the projection systems, Kevin Pillar's 2017 will look a lot like his 2016 season with a slight increase in offense and a slight decrease in defense.
Here is Pillar's stat line from 2016:

.295 wOBA
80 wRC+
Fielding: 21.4 UZR (Ultimate Zone Rating)
fWAR: 3.2
Here are his Steamer Projections for 2017:

.309 wOBA
90 wRC+
Fielding: 11.6 UZR
fWAR: 2.7
It wouldn't be crazy to expect another sensational season defensively from Pillar but the projections paint a more modest picture. While Pillar has been able to stay mostly healthy over his career, he did suffer a sprained thumb in August, landed on the DL briefly and ultimately needed ligament surgery in the offseason. There is nothing to suggest it will be a lingering issue but bumps and bruises come with the territory for any fielder. And Pillar only knows how to play the game one way and that's 110% on every ball hit in his direction. Eventually you have to think that will take a toll.
Aging curves also suggest that an outfielder's best defensive years might be behind him at age 28:
Defensive Aging Curve. Used all positions, but OF similar by less smooth. After age 28, the defensive decline starts pic.twitter.com/rKocdA4HnV

— Jeff Zimmerman (@jeffwzimmerman) December 11, 2015
The bad news is that it looks like it's all down hill from here. The good news is that the average decline is fairly minimal between the ages of 28-30 (about a run). And when a player's peak has been set as high as Pillar's has, a small decline in defensive value will still leave the player with pretty good production.
Of course there is some concern with a player whose value comes from his ability to excel at one thing and one thing only. Unless Pillar can steal 25 bases again, his value rests almost entirely on his ability to play excellent defense at a premium position.
And this is why Pillar's 2017 season is so important to the Blue Jays. His value to the team might never be as high again as it is in 2017.
The Jays' competitive window will not remain open indefinitely with the current core. Key contributors are into their 30s and there may be a youth movement underway once the crop of prospects in the low minors start to move up the ranks.
This is also Pillar's final pre-arbitration season before the Jays will be in line to give him a raise. Getting a 3 or 4 WAR season from a player making a shade over $500k would be pretty valuable to a contending team.
So back to the projections. A 2.7 WAR season from a team's starting centre fielder is not great but it's certainly acceptable. Another season of defensive wizardry could obviously push that figure higher. But defensive value can be volatile year to year so it's hard to know what to expect.
Which leaves us with his bat. Is there any room for improvement left for him at the plate?
Last offseason Joshua Howsam and Chris Sherwin of BlueJaysPlus.com offered some great analysis on Pillar's adjustments with his swing mechanics. At 27 years old, he was still tinkering and trying to improve himself. Unfortunately, it didn't end up translating to the stats line. He actually declined in power, batting average and plate discipline. He wasn't particularly unlucky with balls in play either, as his .306 BABIP remained unchanged from 2015. But there were some notable changes to his batted ball profile elsewhere.
Pillar's 2.8 mph increase in exit velocity from 2015 to 2016 was actually the 12th highest positive change of 266 qualified players tracked by Statcast – from 86.8 mph to 89.6 mph. However, Pillar hit the ball on the ground a lot more (45.6% ground ball rate in 2016 vs. 41.4% in 2015). Hitting the ball hard is nice but only if it's launched at an angle likely to result in a base hit.
There could be a way Pillar can adjust to pitching and tap into the bump in power.
This is the percentage of pitches seen by zone, and suggests a concerted effort on the part of pitchers to get him chasing down and away: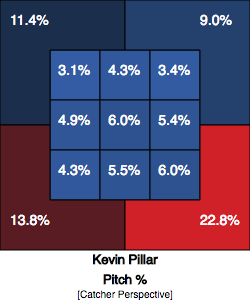 His batting average low and out of the zone was extremely low: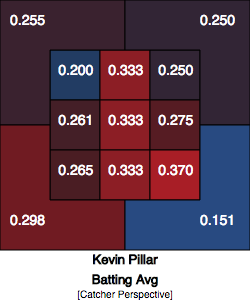 Perhaps in part because of how softly he was hitting balls thrown there: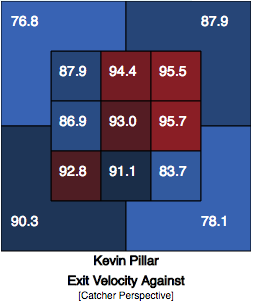 How much do you want to bet that most of those low and away ended up bouncing somewhere on the infield grass?
If Pillar can make the adjustment to not chase so many low balls away, he should be able to put himself in more favourable counts and see more balls to drive. How he achieves that is up to him. Would setting up farther away from the plate force his eye away from pitches he usually chases? Does he setup closer to the plate, so as to cover the outside half where he got burned last season?
Maybe the adjustment won't come from his position in the batter's box as much as it will come from swing refinements. From the Blue Jays Plus article linked to above, we know that he's worked to improve in that regard. He has stayed back in his load and his front side isn't pulling off.
And that's great in batting practice but he'll need to eliminate some of these swings next season and take advantage of balls on the inner half.
A final consideration is Pillar's thumb injury he sustained on August 6th. He only missed about two weeks but that may not tell the whole story.
Up until he hit the DL he had a hard hit rate of 28.8%. After he returned on August 23rd his hard hit % dropped to just 21.8% through the rest of the season. So maybe his mechanical adjustments were actually starting to take hold but we didn't see it reflected in his overall stat line due to the late-season injury? It's a theory.
The nice thing about this strong Blue Jays team is that Pillar is not a player who should make or break their postseason aspirations. But with the AL East probably being the tightest division in baseball, any added production Pillar can give them would be a welcomed bonus. After all, it doesn't sound like Gibbons has settled on a leadoff hitter yet. And to Pillar's credit, he's aiming squarely for that job. If he can refine his approach and improve his plate discipline, he might just grab it.