Late on Thursday night reports came out that Edwin Encarnacion had signed with the Cleveland Indians for a guaranteed $60M over 3 years with a 4th year team option. Reaction on Twitter was swift (is it ever not?). Fans north of the border voiced their displeasure at losing a franchise icon, not stopping at anyone in their quest to assign blame. Barbs were tossed at Rogers, at Ross Atkins and Mark Shapiro, at agent Paul Kinzer and even at Kinzer's client, Edwin Encarnacion.
Even poor Kendrys Morales, through no fault of his own other than wanting to work in Toronto, appears to be in the same unenviable position Mark Shapiro was when he took over for beloved ex-GM, Alex Anthopoulos – Morales is a new, unfamiliar face, without a track record of success in Toronto and will be hated until proven loved. Whether Morales can endear himself to skeptical fans remains to be seen. (And it would appear that Shapiro hasn't helped his own cause so far this offseason)
The disappointment is understandable. The last time the Blue Jays lost a player of Encarnacion's stature and tenure in free agency was over 10 years ago, when Carlos Delgado signed with the Marlins after receiving an obvious low-ball offer from then-GM J.P. Ricciardi of $12M over 2 years. Delgado ended up signing a 4-year deal worth $52M. Twitter didn't exist then but the sentiment among fans (at least the ones who still cared after a 67 win season) was one of displeasure.
Further worsening the blow was that the Blue Jays did not offer Delgado salary arbitration and thus did not receive a compensatory draft pick in the supplemental round the following season. In contrast, the team will net an additional draft pick in 2017 with the loss of Encarnacion as a free agent after he turned down the qualifying offer. Not a big deal you say? Perhaps not. But players drafted in 2005 (the year after Delgado left) with compensation picks included Jacoby Ellsbury, Colby Rasmus, Luke Hochevar, Clay Buchholz and Jed Lowrie.
Although it will take years to find out, the Jays may not come out of this empty handed.
I'm sure that's little comfort for folks calling the loss of EE a "failure" or "catastrophe". But this does not fall solely at the door of the team's front office. It takes two to tango and Edwin reportedly had the 4-year $80M offer on the table for a week, which is a reasonable time frame.
A popular refrain is that the Jays moved on too quickly after EE turned them down. Well that's generally what teams do when a free agent spurns them – they move to Plan B. And considering the report by The Score today, that Encarnacion asked for an even richer deal of 4 years and $100M after turning down the $80M offer, it shouldn't be surprising that the Blue Jays' interests turned elsewhere.
I don't blame Encarnacion or his agent for turning down an offer and shopping around – that's what free agency is for and they were within their rights to do so. But let's not shape this narrative as the team being the bad guys. Even after they signed Kendrys Morales to a 3-year $33M contract, they remained in contact with EE's camp and didn't close the door on a return.
The idea that the Morales signing was the final blow to a return for EE isn't true. Perhaps from a monetary standpoint Edwin would've had to accept less than the initial $80M offer. But positionally the Jays could've made it work. Encarnacion has averaged 73 games at first base per season since 2013. It's not a stretch to think he could've started the majority of them. The addition of Steve Pearce is what sealed it, as he seems far more likely to play first base instead of a full-time corner outfield spot.
In everyone's haste to criticize, there's one question that remains unasked. Was the $80M offer to Encarnacion a smart one to even make in the first place?
Other Factors
– The battery/STD allegations against Encarnacion mid-season may have been a factor in shaping his market. EE's camp has vehemently denied said allegations and asked a New York court to throw out the $11.5M civil suit. But commissioner Rob Manfred has come down hard against players accused of domestic violence, even in cases where charges were dropped (ie. Jose Reyes). The potential loss of playing time due to suspension may have affected Encarnacion's market.
– The Blue Jays were in line to receive a compensatory draft pick after the 1st round when Encarnacion signed elsewhere. The value attached to that pick, which would have been lost had they re-signed him, had to be factored into their offer.
– Yes, EE has been one of the premier power hitters in all of baseball for years. But he'll be 34 and has dealt with nagging bumps and bruises for the past few seasons. Those can take their toll.
Turning to Fangraphs and BrooksBaseball, there are some potential red flags in the numbers. His swinging strike rate and K% have gotten worse each season for 4 years running now, with a significant spike in whiff rate against breaking pitches in 2016: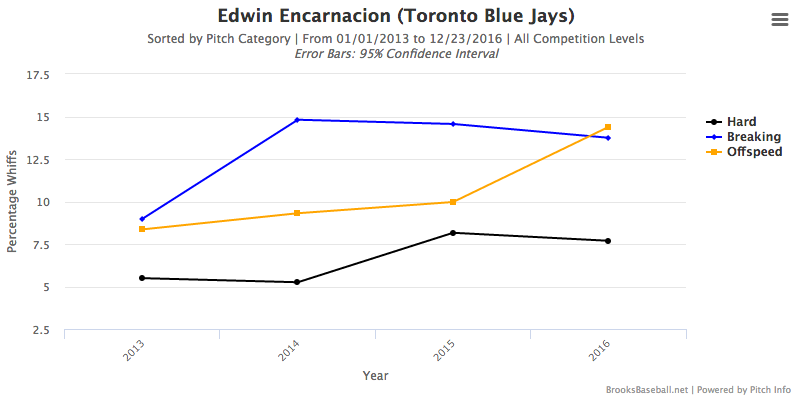 And a very steady rise in whiffs against right handed pitching: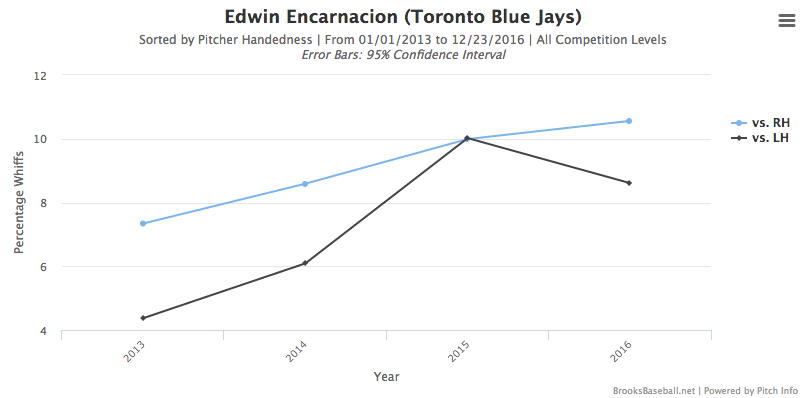 Edwin's 134 wRC+, while still a solid mark, was his lowest since 2011. Is he slowing down? Only time will tell. But father time remains undefeated and Encarnacion's value is tied to one skill – power.
So many things can sap power from older players, even DH's who have the benefit of avoiding risks in the field. As recently as 2015 he missed time with finger and shoulder issues. He also had offseason sports hernia surgery. Then he suffered an oblique injury in 2016 Spring Training.
Should something physical conspire to slow down his swing, fans in the left field bleachers at Progressive Field might not be seeing the same frequency of long balls those at Rogers Centre have been treated to.
This is pure speculation and the author would like nothing more than to see Edwin have a long and healthy career. But the argument for keeping Encarnacion – at seemingly any cost – ignores the risk associated with age.
And what about future payroll? The Jays aren't getting any younger. Tulowitzki is owed $78M and Martin is owed $60M, both to age 36. The Jays' best chance of winning a World Series may have already come and gone, regardless of whether Encarnacion stayed in Toronto. Committing 3 or 4 years to an aging player in the hopes that the team can contend in year 1 of that contract is tying up a lot of money to a very small window.
The point is, re-signing EE was hardly the cut-and-dry, "no brainer" that many claimed it should've been.
Life will go on without him. The Jays may even take another run at a division title. Fans will still show up to the ballpark and be treated to the wonderful game of baseball. Prospects like Rowdy Tellez, Sean Reid-Foley, Anthony Alford and Vladimir Guerrero Jr. may soon bring new excitement and optimism. The front office under Mark Shapiro is thinking long-term. Despite that being in contrast to Alex Anthopoulos' prospect purge and "win now" moves, it's a good thing. If there's one thing we know it's that money doesn't buy championships. Sure, it helps. But without home-grown talent and key players contributing on pre-arbitration salaries, it becomes increasingly difficult to field a competitive club.
Fans have the luxury of having sentimentality and nostalgia shape their desires while front offices have to act on objective reasoning, data, future roster and payroll implications, and the market realities facing them in free agency. One side trying to convince the other is as futile a folly as trying to find reasonably priced beer at Rogers Centre. You might as well not waste your time.
So, good luck and Godspeed, Edwin. And thanks for the memories.