Marcus Stroman is in line to reach free agency after the 2020 season and the Blue Jays have to determine if he fits into their next window of contention. By all accounts, Stroman loves Toronto and relishes the opportunity to play for an entire country. If the Jays were to offer a competitive contract extension I'm sure he'd seriously consider signing it. But I don't think the Jays will.
That's going to be a hard pill for some fans to swallow, but given the awfulness of the team's play this year it's hard to imagine them as World Series contenders before Stroman's 30th birthday in 2021. Big dollars are not usually guaranteed to pitchers in their 30s unless the team is in position to compete. If the Jays' rebuild was a year ahead of where it is now, maybe extension talks are underway. But I suspect the priority for GM Ross Atkins has been gathering information from teams interested in acquiring his best starting pitcher prior to the July 31st deadline.
It's possible that Stroman is the most sought-after pitcher on the market (depending on what the Tigers do with Matthew Boyd and if the Mets decide to sell). That's a great position for a rebuilding team to be in. The stars are aligning for the Jays to acquire a strong package of assets within the next six weeks. They don't have to trade him, but waiting until the offseason, or 2020 deadline, to shop him seems needlessly risky.
Sure, Stroman could go on to have an excellent 2nd half and come out on fire again in 2020. It's possible he raises his trade value even more. But it's usually better to trade a player a year early rather than a year late.
One only has to look at how Josh Donaldson's tenure ended to see how things can go wrong. Hindsight is 20/20, and no one could have foreseen him missing most of the 2018 season due to injury, but I'm sure the Jays were expecting more than Julian Merryweather in exchange for the former MVP. The return left many fans criticizing the front office for poor asset management.
Dealing with pitchers can be especially risky. Despite best efforts, we're not able to predict arm injuries with any measure of certainty. Last season, the Blue Jays were the beneficiaries of fortunate timing when they traded Aaron Loup on July 31st to the Phillies. Less than three weeks later Loup hit the Injured List with a strained left forearm and pitched just two more innings in a Phillies uniform. Had this happened prior to the trade deadline, the Jays would've been left with a zero value asset.
Even when healthy there's no guarantee a pitcher will command a good return.
When the Jays signed Tyler Clippard to a one-year minor league deal in March of 2018, it was a low-risk move with the unsaid-but-obvious intent to flip him mid-season to a contender. After all, Clippard had been moved in each of the last three years as bullpen depth. Alas, it wasn't meant to happen for the Jays. Clippard's home run rate rose, his velocity dipped, and his ERA estimators scared teams off as the trade deadline passed.
Neither Loup nor Clippard were worth much in trade, but it reminds us of the volatility of pitchers. And Marcus Stroman is no different.
Stroman should be able to bring the Jays a substantial return – a top-100 prospect, plus additional pieces. There are clearly teams in need, and the Yankees and Padres have been two of the most frequently mentioned destinations.
The pro-rated portion of his $7.4 million 2019 salary plus whatever he earns in arbitration next year are very reasonable costs for a good starting pitcher. (One has to wonder if the small-market Rays enter the bidding if only to keep him away from the Yankees).
But consistency might be one of the few red flags that teams see. Not only has Stroman made more than 20 starts in a season only twice, but his ERA has been a roller coaster.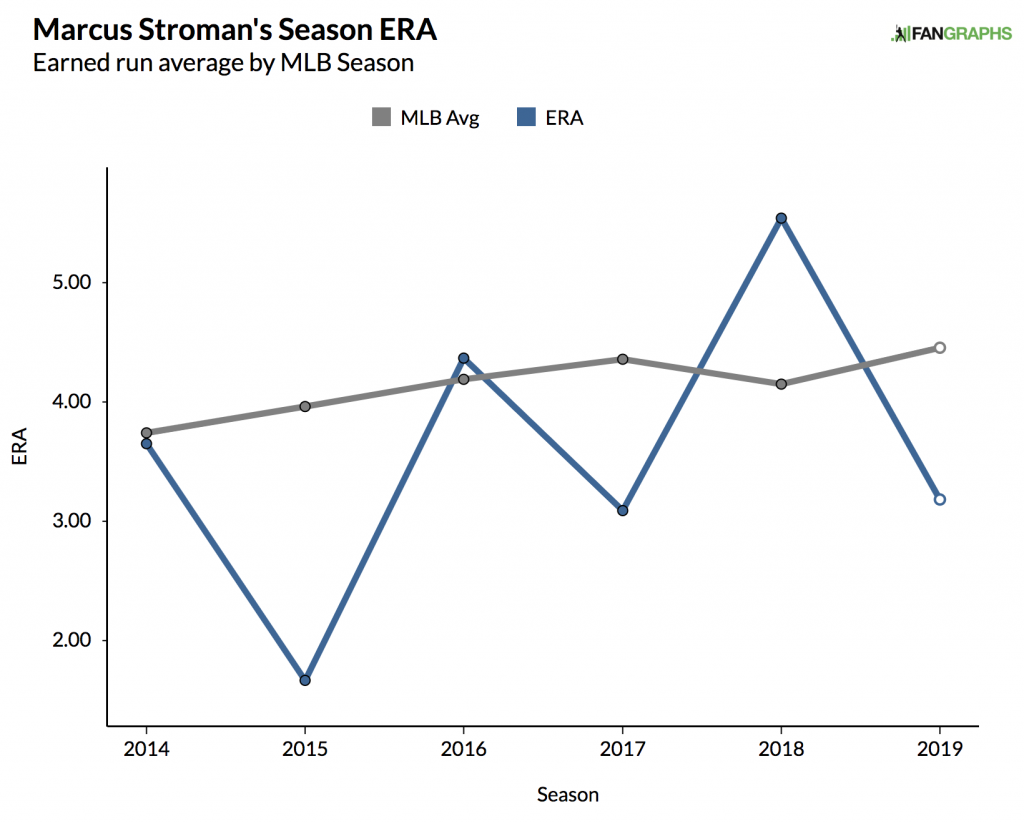 While underlying metrics like FIP and xFIP point to a very dependable pitcher, teams will want real world results if they're parting with top prospects. To this end, Giants World Series hero Madison Bumgarner might generate a bigger return despite becoming a free agent after this season – but that's debatable.
After his start tonight, Stroman's ERA sits at 3.23. Last season there were 17 qualified starters with a lower ERA. Only two of those players (Miles Mikolas and Trevor Williams) had a strikeout rate lower than Stroman's 6.75 K/9. Only one of those, Williams, has an ERA under 4 this year.
I'm not suggesting that we should expect a terrible 2020 season, but it feels like we're witnessing peak-Stroman right now. Pitchers with his profile rarely maintain elite ERA marks season after season.
His 2020 ZiPS projection forecasts an uninspiring 4.04 ERA. Baseball Prospectus' PECOTA is more pessimistic at 4.43. These numbers might be surprising given that Stroman's never had a single-season FIP over 3.91. But aging curves are real. And pitch-to-contact types don't fare well in ERA projections. Furthermore, he hasn't been able to find his swinging strike gains from 2017 and his walk rate remains above his career average.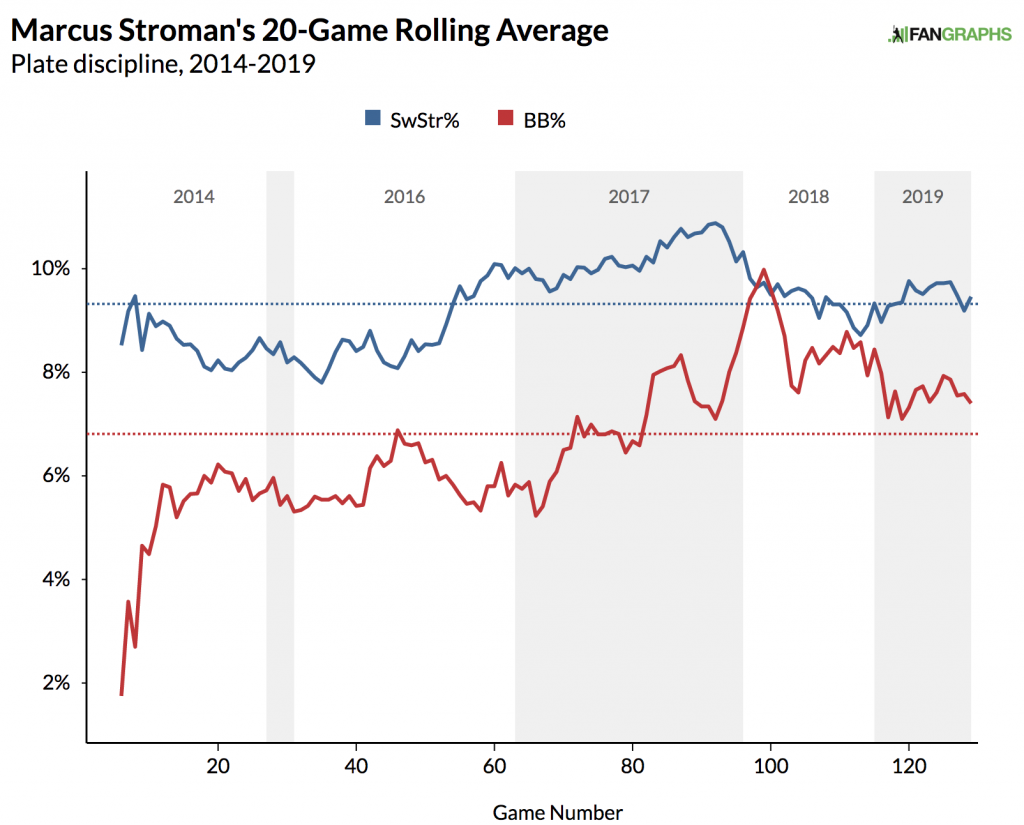 And let's not forget the shoulder and finger injuries that sidelined him for much of last year. All of these factors will be baked in to the offers the Jays receive.
Conversely, Stroman's value to the team on a long-term extension is murky. What if blisters become a recurring issue? What if his ERA follows the projections and he's merely league-average instead of an All Star? It's a risk the Blue Jays probably don't want to take.
What will the #BlueJays do with Marcus Stroman?

— John Metzler (@bluejaysbeat) June 18, 2019
So as July approaches in another rebuilding year, the narrative once again turns to asset management. But this year feels different. Trying to extract trade value from a relief pitcher like Clippard in his mid-30s is one thing – worst case scenario the Jays missed out on a low-end prospect who probably wouldn't have worked out anyway. But fail to turn a homegrown star like Marcus Stroman into futures, and they could miss on a future cornerstone player.
Stroman's value might never be higher than it is today. What other teams are willing to part with for him remains to be seen. But if the Jays are intent on moving their ace, the next few weeks is almost certainly the best window to do so.