They say there are three certainties in life: death, taxes, and baseball fans freaking out over small sample sizes. Ok, no one says that. But if you follow fans on social media it feels like it's true. In fairness, I don't see anyone really worrying about Vladimir Guerrero Jr.'s slow start. But the question of when we should worry is already being asked.
For reference, Vlad Jr.'s triple slash line through 10 games and 41 plate appearances is .162/.244/.189. His 23 wRC+ ranks 10th worst among 202 players over the past two weeks. There's no sugarcoating his production. It's been bad.
FanGraphs and Baseball Prospectus published articles this morning about Vlad Jr.'s slow start and I encourage you to read them. A few items that were covered include historical comps, the debuts of other top prospects, and the randomness of small sample sizes. The point was made that we should not be worried at this early juncture.
These are perspectives from the baseball world at large. Among the Blue Jays fan base, it's easier to be frustrated. We've watched this talented but clumsy group of youngsters flail and fumble their way to the 3rd worst record in the American League. Vladdy was supposed to be The One Thing™ about the team worth watching this year. So far, he's provided few highlights.
This week's series against the Twins was a struggle to watch. Getting a runner to second base was a monumental achievement, and having more than one cross home plate proved to be impossible. The previous series against the Rangers wasn't much better.
The Blue Jays are in the painful phase that most rebuilding clubs have to endure. What gets us through are the glimpses of what's to come. And that Vlad Jr. has yet to even hit his first home run feels like cruel punishment to fans who have endured Socrates Brito and Alen Hanson on a regular basis.
But these moments of excitement are likely around the corner.
Today's FanGraphs article included an important sentence:
Guerrero has hardly seen any pitches to hit in the last couple weeks, but he has yet to chase outside the zone at a high rate.
This is encouraging. Guerrero's terrific plate discipline remains intact, and it's a big reason why he's such a highly touted prospect. Sure, he's swung and missed at some bad pitches. But if we quantify "hardly any pitches to hit" we see why he's probably been frustrated.
The data in the two tables is from Pitch Info. Zone% is the percentage of pitches thrown in the strike zone. Through the first month and a half of 2019, the 10 lowest rates among 356 batters in our sample are as follows. A familiar name sits at the top (or bottom, depending on how you look at it).
Plate Discipline Through May 8th
Name
Team
PA
O-Swing%
Z-Contact%
Zone%
Vladimir Guerrero Jr.
Blue Jays
41
25%
87%
38%
Lourdes Gurriel Jr.
Blue Jays
44
41%
79%
39%
Eloy Jimenez
White Sox
85
40%
81%
40%
Peter Alonso
Mets
156
36%
82%
41%
Neil Walker
Marlins
103
32%
87%
41%
Christin Stewart
Tigers
64
37%
84%
41%
Eddie Rosario
Twins
143
43%
88%
41%
Javier Baez
Cubs
153
44%
79%
41%
Gerardo Parra
Giants
97
40%
87%
41%
Chris Davis
Orioles
95
31%
82%
41%
Source: Pitch Info at FanGraphs.com. Minimum 40 plate appearances.
If you're not familiar with these metrics, that's OK. This is what you need to know:
Vlad Jr. has faced the lowest rate of pitches thrown in the strike zone (Zone%)
He's not chasing pitches outside of the zone very often (O-Swing%)
He's making contact with pitches that do enter the zone (Z-Contact%)
Guerrero's plate discipline skills haven't changed in his first 10 games. I mean, obviously. It's only 10 games. Let's take this further and give some context to his 38% Zone%.
Lowest Zone% Leaders In Each Season
Year
Name
Team
Zone%
2018
Giancarlo Stanton
Yankees
41%
2017
Joey Gallo
Rangers
39%
2016
Chris Davis
Orioles
40%
2015
Eric Hosmer
Royals
41%
2014
Pablo Sandoval
Giants
41%
Source: Pitch Info at FanGraphs.com. Qualified hitters.
Comparing him to the last five seasons, Vlad Jr. is currently at the extreme end of this rate stat. In other words, he's likely to see more pitches in the strike zone going forward.
That said, it doesn't do him justice to just say that Guerrero hasn't had much to hit. It's a fair and true assertion, but it doesn't leave much of an impact. This graphic, however, does.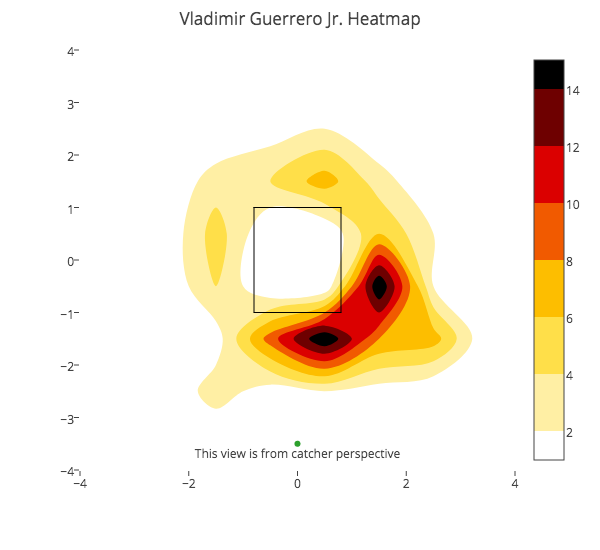 And there it is.
While this may look like the recent photo of a black hole from the Event Horizon Telescope, I assure you it's not.
This heat map of 177 pitches thrown to Vladimir Guerrero Jr. is absolutely bananas. Opposing pitchers are avoiding the strike zone like the plague, knowing full well what our Large Adult Son does to baseballs located in said zone. It's the ultimate sign of respect to a 20-year old.
In addition to this, he's been on the wrong end of several called strikes. Jays fans have voiced this on Twitter, some less eloquently than others. But in an effort to strip out the bias I turned to Statcast. Sure enough, Guerrero's rate of called strikes on balls outside the zone is one of the highest in MLB.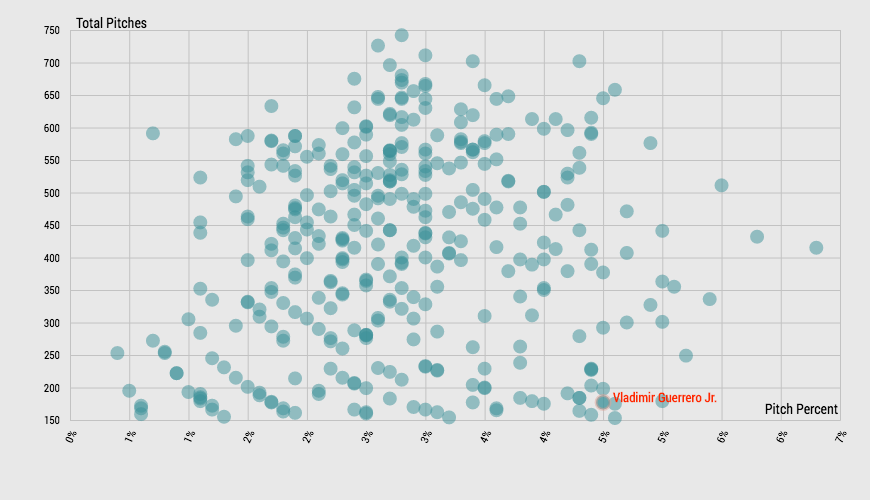 There he is to the far right on the plot. His 4.5% rate puts him in the 94th percentile rank of called strikes that were actually balls.
While pitchers have shown him respect, umpires clearly have not.
Guerrero's 10% walk rate is a testament to his patience, even as a rookie with the weight of a fanbase on his shoulders. He also has virtually no lineup protection and pitchers know this. As the Blue Jays continue to graduate prospects and add pieces, that will change. Until then, this is the challenge facing Guerrero.