The Dodgers and Reds just completed a trade. I don't know if it can be classified as a blockbuster, but it's certainly notable. On the move to the Reds are Yasiel Puig, Alex Wood, Matt Kemp and Kyle Farmer. Heading to the Dodgers are Homer Bailey and prospects. Money is also changing hands.
It's been reported that the Dodgers plan to release Bailey, thus making him a free agent. This is why today's trade is relevant to the Blue Jays.
Now, a quick glance at your favourite baseball statistics website will tell you that Homer Bailey was a very bad pitcher last year. Allow me to explain my rationale for wanting this very bad pitcher.
The Blue Jays Will Not Be Competitive in 2019
Next season is lining up to be a year of development for players like Danny Jansen, Lourdes Gurriel Jr., Teoscar Hernandez, Rowdy Tellez, Ryan Borucki and Sean Reid-Foley. It will also be an audition for newcomers like Brandon Drury, Billy McKinney, David Paulino and Trent Thornton. The Jays brass needs a good read on these players in order to make a decision on how (or if) they fit into future plans.
As such, growing pains are expected. The team will take a long-term approach to roster construction as opposed to a "win now" approach. And the worst thing that happens if Bailey doesn't work out in the bullpen is that the Jays release him.
Homer Bailey Might Have Something Left In The Tank
This may seem like a foolish assumption given his combined 6.25 ERA in 38 starts since returning from Tommy John surgery (his second time receiving the procedure). He's probably no longer a good starting pitcher.
Pitchers who return from Tommy John usually don't regain their stuff right away. Often, it takes until the second season back from surgery to find it. Bailey just finished his second season and, well, he didn't find it. He was homer prone and didn't strike many batters out.
So a transition to the bullpen seems inevitable, whether it's with the Jays or another team. Bailey has not pitched in relief in his entire 12 year career, so it's not a sure thing that his stuff will play up in shorter stints. Or that he even stays healthy enough to find out. He's a pitcher. He's an oft-injured pitcher. He's an oft-injured pitcher who just posted an ERA over 6. Risks abound!
But 2019 is a season in which your Toronto Blue Jays should be open to taking small risks, if the reward is an asset that can contribute in the future when the team is good. Bailey won't be that asset. But a prospect in a trade return at the deadline might be, if Bailey thrives in relief.
Bailey Still Throws Hard
His average four-seam fastball velocity, according to Brooks Baseball, was 93.8 mph last season. That's nothing special, but it was still harder than 82 starting pitchers who threw 100+ innings last season. He even touched 97 mph in a game in May against the Pirates. That's peak velocity for Bailey the starter. But if he was asked to pitch only one or two innings, could he maintain it? I'd like to find out.
Bailey's Splitter Is Still Really Good
This is key. And it's why I think a move to the bullpen could work out well: He possesses a secondary pitch that gets swings and misses. It had a 17.3% whiff rate last year, and has a 17.2% rate for his career. It induced more ground balls last season than it had in five years. And he can use it against left-handed hitters.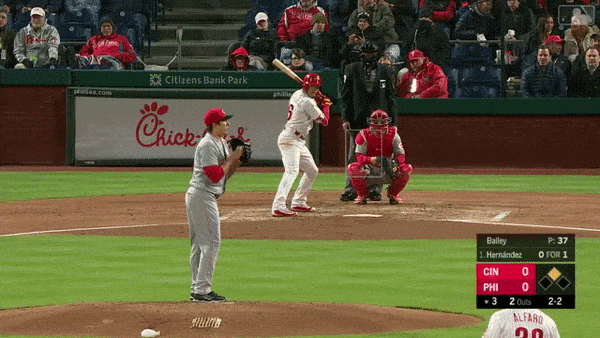 Of course this line of thinking could apply to a lot of pitchers, not just Homer Bailey. But Bailey's in the news and it triggered the thought. The Jays could do a lot of things, like offering a substantial 1-year guarantee to Oliver Perez, who probably had the sneakiest great season of any pitcher (seriously, go look his up stats), and then flip him at the deadline to a contender.
Or trading for a pitcher like Ty Blach, who has bounced from San Francisco's rotation to bullpen. Convert him to a reliever on a full-time basis, hope for a velocity increase, and have him focus on just the fastball and curveball (a pitch that was a worm-killer last year). He's got a bunch of team control, so they could flip him as well to a team that needs bullpen help, if things fall into place for him. If they don't, they have a 6th starter/long-relief pitcher that they (presumably) didn't pay much to acquire under contract through 2022.
You can seek some other names from around the league if you wish. But the obvious idea here is that the Blue Jays have a bullpen without jobs locked down. Beyond Ryan Tepera and Ken Giles making 50+ appearances, there isn't much else I'm willing to bet on. In a rebuilding year, the Jays could utilize the 'pen as a means to boost the stock of some pitchers and flip them for future assets.
Soon to be 33, Homer Bailey would certainly love to get his career back on track, and maybe that could happen in Toronto's bullpen.