The Blue Jays entered 2018 with four-fifths of their American League-best 2016 rotation along with newcomer Jaime Garcia. Youngsters Aaron Sanchez and Marcus Stroman were hoping to reach a little closer to their considerable ceilings. Marco Estrada and J.A. Happ were the dependable veterans. The Jays were projected to have a decent starting five. But this is baseball. And in baseball, things go sideways. So of course the best starting pitcher on the team at this moment in June is none of the above. It's Sam Gaviglio.
A month ago you would've said, "who?" and been forgiven. But the 28-year old Ashland, Oregon native is now demanding our attention.
In his Junior year at Oregon State, Gaviglio posted a 12-2 record, 1.87 ERA, 8.8 K/9 and a 2.1 BB/9 en route to being drafted in the 5th round by the Cardinals. With a high-80s/low-90s fastball, he was known as a control artist. Not much has changed. In a Double-A stop and three Triple-A forays in two organizations over the past 3 years, he posted walks-per-9-innings rates no higher than 2.0.
Gaviglio has to live this way, given his average fastball velocity this year is just 88 mph. He doesn't miss many bats as evidenced by his 7.7% swinging strike rate and 6.55 K/9 in 103 major league innings. When the Blue Jays acquired him from the Royals in March for a player to be named later or cash, it was a blip on the radar.
Now, we're talking about just four starts here, and that normally wouldn't deserve its own article. But the team has been in a tailspin since early May so a quality start registers as noteworthy. His 2.59 ERA as a starter won't last but his 3.61 xFIP, 14.6% K-BB% and 58% ground ball rate suggest that the run prevention hasn't been a total fluke.
It hasn't all been great. Against hitters 3rd time through the order, the numbers are considerably worse.
6.75 ERA
1.50 WHIP
4.12 xFIP
33% ground ball rate
If the Jays need Gaviglio to remain in the rotation for a while longer, John Gibbons may want to keep him on a short leash. His miniscule .186 BABIP on fastballs is sure to rise too. The bullpen might have to be ready come the fifth inning.
But let's take a look at what he's doing right.
Gaviglio throws a two-seam fastball, a slider, a changeup and a curveball (rarely). Pitch Info shows a four-seamer in his repertoire and Statcast includes both a two-seamer and a sinker. I suspect these are just classification errors. The four-seamer is barely used and its characteristics (horizontal & vertical movement, velocity, release point) are consistent with the two-seamer. Moving on.
The slider has been an effective secondary pitch for him. According to PITCHf/x, opponents are hitting just .156/.229/.219 against it. This success comes despite the pitch's relatively limited movement. It's not a wipeout slider that dives from side to side but is more a tight 12-to-6 breaking ball. I suspect that he's getting swings and misses from good location as much from pitch movement.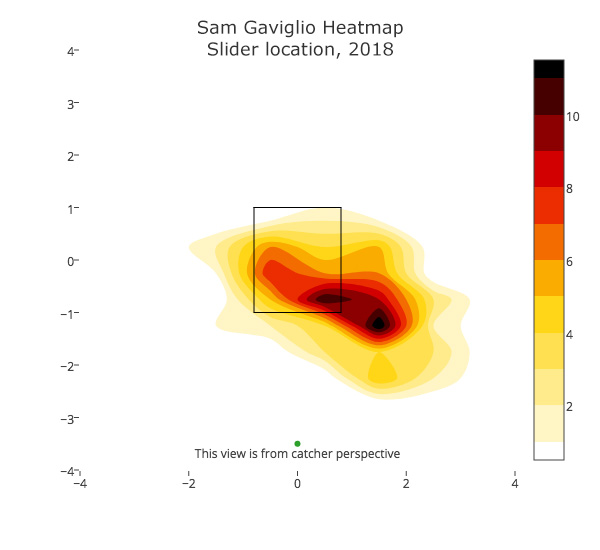 For the most part, the slider is living in the right area. And when it does catch the plate, it's mostly low and at the corner.
Here's the slider in action from last month against Khris Davis and the A's.
The 6 mph difference in speed compared to his two-seam fastball is not huge, but the location is key, and its straight and downward movement offers some deception from the fastball's arm-side run.
All told, the slider is an above average pitch for Gaviglio.
The two-seam fastball is not quite as good. As you can imagine, the margin for error when averaging 88 mph is slim. Opponents are slugging .474 off it and it's only generating a 4.9% swinging strike rate. If he can keep the ball down he has a good chance at generating ground balls. When he keeps it up and it leaks over the heart of the plate, well, this sort of thing happens.
Russell Martin set up away. Gaviglio did not throw it away. Martin's glove was where he normally wants to locate two-seamers against right-handed hitters.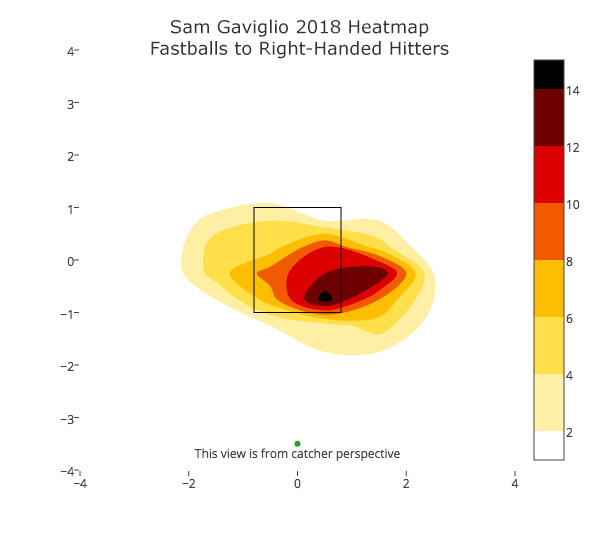 It starts off the plate and the natural arm-side movement brings it back over the outside edge of the zone.
He's also pitching outside to left-handed hitters but the pitch catches more of the zone.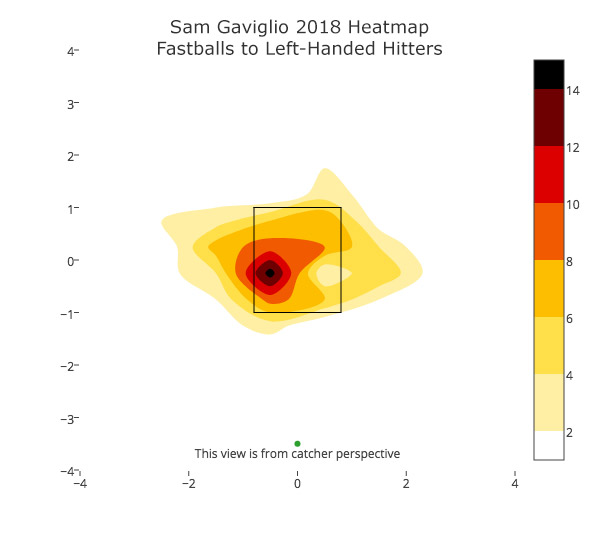 According to Brooks Baseball, the sinker's whiffs per swing percentage is 18.4% against righties compared to just 9.3% against lefties. This makes sense, as it starts off the plate against righties and comes back in. Against lefties the ball spends more time in the zone before diving away, perhaps giving them a better look at it.
But if you watched Sam Gaviglio's last start against the Yankees and their powerful offence, you would've walked away impressed. Seven strong shutout innings is not easy to accomplish against that lineup. He may have gotten lucky with the three walks not coming around to score, but he made pitches when he had to.
While some of his results thus far are probably not for real, it's clear Gaviglio has a game plan and is effective when he locates his fastball and slider well. In an age of triple digit velocity it's refreshing to see soft-tossers fooling good hitters. How much longer Gaviglio can keep this up is not known. But he clearly wants our attention, and now he has it. His performance to date has also earned him more starts in a rotation that desperately needs something good to happen.