Yesterday the Blue Jays announced they were designating Jason Grilli for assignment, marking the end of his tenure in Toronto. Grilli, being all class, took the news well. John Gibbons told the media afterwards that Grilli was "one of the best guys he's been around."
That's probably not an exaggeration on Gibby's part either. Grilli's clubhouse presence and professionalism is well documented and he was popular among his teammates in Toronto. But there comes a time when that only gets a player so far. And for Grilli, that time was yesterday.
His final appearance in a Blue Jays uniform was on Friday when the Jays blew a late lead against the Kansas City Royals, with whom they're competing for a Wild Card spot. After Ryan Tepera and Aaron Loup gave up hits that turned a 4-1 lead into a 4-3 lead, Grilli was called upon to face Whit Merrifield with two outs. He proceeded to give up a line drive that scored two and lost the game. That, in a nutshell, was the story of Grilli's 2017 season with the Jays.
The interesting thing is that the sharp decline of this 40 year old pitcher was not due to fastball velocity or injury (that we know of, anyway), two common culprits of late career drop-offs. Via Brooks Baseball, his average fastball velocity was 93.44 mph, up slightly from his effective 2016 campaign.
One thing that does stand out when viewing his player card at Brooks is his horizontal release point.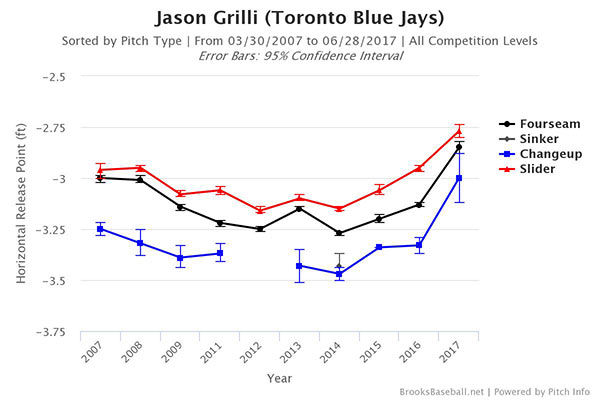 All three of his pitches were being delivered from a different slot than ever before. The changeup being the most extreme one. This isn't the smoking gun to explain away all of Grilli's troubles though. While mechanics may have played a part, hitters were clearly seeing his slider well in particular.
When a pitcher "grooves" his pitches it means he's throwing them down the middle of the plate, the easiest location for a batter to hit.
The percentage of grooved sliders he's thrown this year compared to last has more than doubled (3.1% vs 7.1%). Maybe it's no coincidence that hitters have been teeing off on his slider all season. When throwing that pitch, he's given up:
6 home runs
.393 AVG
.469 OBP
.1.107 SLG
301 wRC+
That's obviously really poor, but even more so when you compare it to how his slider performed last season:
2 home runs
.148 AVG
.264 OBP
.328 SLG
73 wRC+
No better (or worse) example of this was the game he pitched against the Yankees on June 3rd. He gave up four home runs in one inning, three of them on sliders.
Last season Grilli threw 35.7% of sliders in the strike zone, this season it's virtually the same at 36.2%. However hitters are making contact with that pitch at a 79% rate this year. Last year? Just 59.9%.
Could a combination of pitch sequencing and location within the zone be Grilli's biggest issue? With the absence of a velocity drop or injury, it does seem like Grilli might actually be fixable.
But that's for another team to find out, if they so choose. Jays fans will try to remember the good times in 2016, when Grilli's fist pumps and screams walking off the mound became legendary during the run to another ALCS. That exuberance will be my lasting memory of Grilli in Toronto.